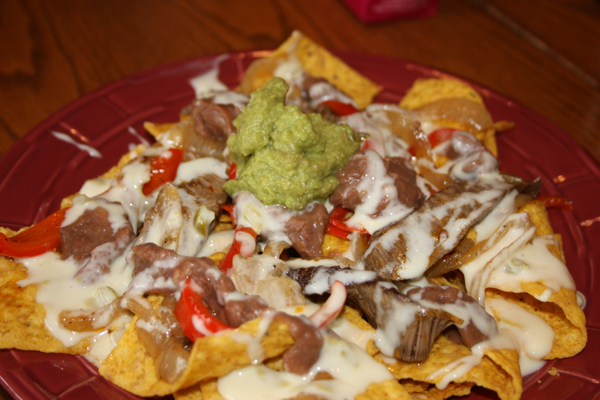 I am quite a fan of fajitas and for the past several years we have been making them at home. Fajitas were always a favorite of mine when eating out, but now that I have a arsenal of my own recipes for them I can venture to trying new things when out at a restaurant. I have shared chicken and beef fajitas before, but if you know anything about me I am always experimenting and looking to change things up a bit.
One of the changes I made when making these fajitas was that I used skirt steak. (Partially due to the beautiful piece of meat on my trip to Whole Foods. I can never go in there and come out with just the items on my list.) I am a huge fan of flank steak in my fajitas.  I thought I would give the skirt steak a try since so many people use it for fajitas. Both Jeffrey and I loved the skirt steak. It is very similar to flank steak but a little bit more tender in my opinion.
We actually had the fajitas earlier in the week for dinner and I loved them that way. When I used some of the leftovers for nachos, I knew I had to share. They were so yummy! Don't you love it when you can use leftovers for multiple meals throughout the week? Yet another way I like to mix things up. I think the boys are catching on to my attempts to get them to eat leftovers though.
Skirt Steak Fajitas
ingredients:
1 pound skirt steak
2 tablespoons olive oil
juice of 2 limes
4 cloves of garlic, minced
1 teaspoon salt
1 teaspoon black pepper
1 teaspoon chipotle pepper, minced
1 teaspoon cumin
directions:
If the skirt steak has not been trimmed remove any remaining silver skin and then pat dry. Place the steak in a gallon ziplock bag and set aside. In a small bowl, whisk together the olive oil, lime juice, salt, pepper, chipotle pepper, cumin, and garlic. Pour the marinade over the steak, seal the bag and toss to evenly coat the skirt steak. Place in the refrigerator and allow to marinate for up to 24 hours.
When ready to cook the meat preheat grill. Remove the steak from the fridge and bring to room temperature as the grill heats. Grill steak for 3-4 minutes on each side. Allow to rest for 5 minutes. Cut steak into thin strips against the grain.
For the fajita veggies:
2 red bell peppers, thinly sliced
1 Vidalia onion, thinly sliced
2 cups sliced baby bella mushrooms (optional)
1 tablespoon olive oil
1 teaspoon salt
1 teaspoon pepper
1 teaspoon chipotle pepper, minced
1 teaspoon cumin
Combine everything in a large bowl tossing to coat. Add the veggies to a large skillet and cook until soft.
To assemble nachos:
Scatter a good amount of tortilla chips on a plate. Drizzle with some refried beans. Top with steak and veggies. Drizzle with white queso dip. Top with sour cream and guacamole if desired.