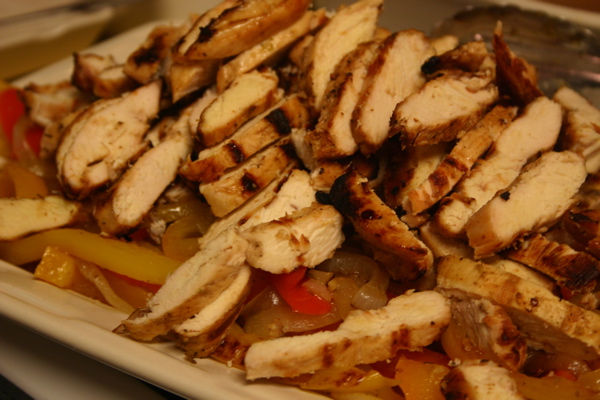 The other day we had unusually warm weather for December in Kansas City and we took advantage of the gorgeous weather. The boys got out of the house rode bikes, played basketball, and got some much needed sunshine. Jeffrey took advantage by firing up the grill. We were all treated to fajitas which were grilled outside. They were delicious.
I don't know about you, but fajitas are one of my favorite things. Now that I have a couple of recipes that I can turn to without fail. I can enjoy fajitas much more often avoiding a visit to restaurant to get my "fix" for them. This recipe is my favorite for chicken fajitas, but I have a completely different recipe that I prefer when cooking steak fajitas. You can use this recipe for beef as well; however, once I share the one I use for beef this recipe will probably be your "chicken fajitas" recipe as it is mine.
I am working on some new ideas for posts this year and would love your feedback. I have had a couple of suggestions such as shopping for meat, favorite tools in the kitchen, and slow cooker meals but if you have any suggestions please feel free to send me an email or leave a comment.
Chicken Fajitas
Marinade:
1/4 cup olive oil
1 teaspoon grated lime rind
2 1/2 tablespoons lime juice
2 tablespoons Worcestershire sauce
1 1/2 teaspoons ground cumin
1 teaspoon salt
1/2 teaspoon dried oregano
1/2 teaspoon ground black pepper
2 garlic cloves, minced
1 1/2 cups beef broth
Fajitas ingredients:
1 1/2 pounds boneless, skinless chicken breasts
4 bell peppers (I use a mixture of red, orange, and yellow.)
1 large onion
flour tortillas
shredded cheese
salsa
sour cream
guacamole
Directions:
Combine all of the ingredients for the marinade together in a 4-cup measuring cup. Place chicken in a large bowl and pour 1 1/2 cups of marinade over chicken. Reserve remaining marinade for the veggies. Cover the chicken with plastic wrap and let marinate in the refrigerator for a minimum of 4 hours. (Can be marinated overnight.) Cut the bell peppers and onions in small strips or slices and put in a bowl with the remaining marinade. Refrigerate until ready to cook.
Heat grill or grill pan. Remove chicken from marinade and grill for approximately 8 minutes per side or until cooked through. Remove the veggies from marinade reserving the marinade. Cook veggies either on the grill or in a large saute pan on the stove. (I usually cook my veggies on the stove on high heat to saute them while Jeffrey grills the chicken.) Place the reserved marinade in a small saucepan and bring to a boil. To serve, slice the chicken in to strips. Put veggies on a large platter, top with chicken, and pour heated marinade over the meat and veggies. Serve on warmed flour tortillas with shredded cheese, sour cream, salsa, and guacamole. The leftovers make delicious quesadillas.
Adapted from Cooking Light.