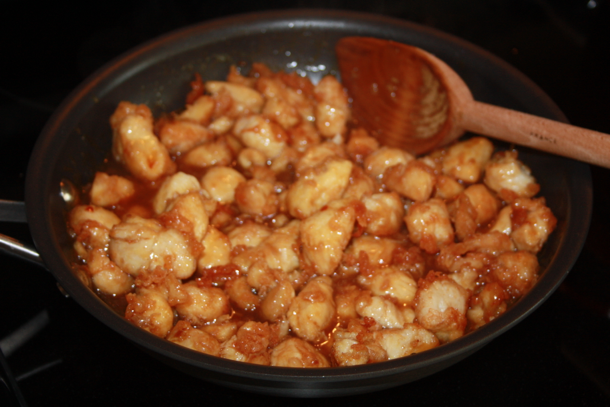 I fondly remember going to get Chinese takeout with my mom when it was just the two of us. It usually consisted of sweet and sour chicken and beef and broccoli. While the options for takeout Chinese seem to be endless, not very many offer gluten free options. Thankfully there are some places we can get takeout. At the same time, if you can make it at home and control the ingredients and the quality of the ingredients, you generally know it is going to be better for you and more to your taste.
That is the case with this orange chicken. It is fabulous! Frying the chicken is a little time consuming, but on a night when we don't have soccer practice this is a fun evening meal. We served ours with basmati rice and some vegetable lo mean. (Recipe coming.) I even found some gluten free fortune cookies to make our meal just like the takeout. Next time you are craving some Chinese takeout give this recipe a try. I think you might like it.
Orange Chicken
Chicken:
2 tablespoons cornstarch
4 egg whites
4 boneless chicken thighs, cut into bite-sized pieces
Sauce:
1/2 cup orange juice (I used Simply Orange)
1 tablespoon soy sauce (make sure it is gluten free)
1 packed tablespoon brown sugar
1 tablespoon rice wine vinegar
1/4 teaspoon sesame oil
Dash salt
Dash crushed red pepper
1 clove garlic, pressed
A little grated or minced ginger
1 teaspoon cornstarch
Vegetable or peanut oil, for frying
Rice for serving, we enjoy Basmati rice
directions:
For the chicken: In a large bowl, whisk together the cornstarch and egg whites with a fork until almost frothy, about 1 minute. Add the chicken to the mixture and allow to sit for 5 to 10 minutes.
For the sauce: Put the orange juice, soy sauce, sugar, vinegar, sesame oil, salt, crushed red pepper, garlic and ginger in a small nonstick skillet and whisk. Heat until bubbling and starting to thicken, about 5 minutes.
Whisk together the cornstarch and 1/4 cup water in a small bowl and add 1 to 2 tablespoons of the cornstarch slurry to the sauce. Mix in and thicken for 1 minute.
Heat about 2 inches of vegetable oil in a heavy-bottomed Dutch oven until a deep-fry thermometer inserted in the oil registers 350 degrees F. Carefully drop the chicken into the oil and move it around, flipping gently, until golden, 3 to 4 minutes. Let the pieces drain on a plate lined with paper towels for 2 to 3 minutes. Then drop them back into the oil for 1 minute to really solidify the coating.
Toss the chicken in the sauce and serve over rice.