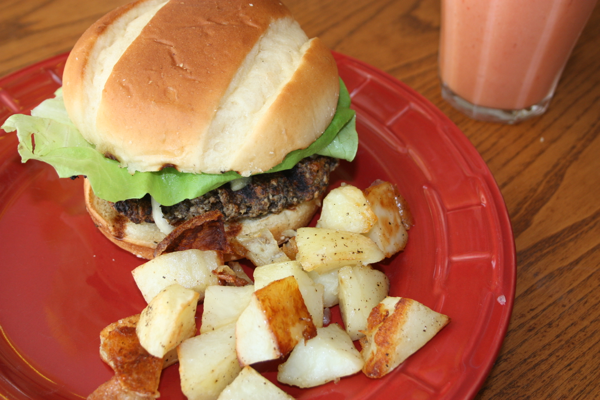 For the past several years, Spring's arrival triggers a countdown to summer break for my kiddos. This year is no exception. The last several weeks we have been running from one thing to the next. I've had a bit of a mandatory break as Tyler has been home sick from school for the last couple of days. Last night was the first time in I don't know when that we all got to sit around the table for a family meal at a reasonable hour.
I went all out for the occasion or at least it seemed like that to the family. We had mushroom burgers, oven roasted potatoes, fruit smoothies and homemade vanilla ice cream. It was fabulous! I had some mushrooms in my refrigerator that needed to be used. I originally had planned on making mushroom pasta, but the gorgeous weather called for grilling. I saw a recipe for mushroom burgers and decided I needed to give them a try.
I honestly love to mix things up with my burgers so I was eager to see how these would turn out. I did grill a couple pieces of chicken just in case the boys were not as excited about the mushroom burger. Tyler decided to stick with the chicken but William ate both a grilled chicken sandwich and mushroom burger. Jeffrey proclaimed these his favorite vegetarian burger. With the decent reviews, I think we will be having these again soon. I did make an extra batch of burgers after we enjoyed them so much and stuck them in the freezer. I can't wait to see how they do next time I need a quick easy meal.
Mushroom Burgers
ingredients:
2 tablespoons unsalted butter
24 oz. mushrooms, sliced (I removed the stems and then sliced them.)
2-3 cloves garlic, minced
2/3 cup old-fashioned oats (I use Trader Joe's gluten free oats.)
1/2 teaspoon kosher salt
Freshly ground pepper, to taste
1/2 teaspoon dried parsley
1/4 teaspoon dried thyme
1 large egg
1/2 cup dried bread crumbs (I use the ends of Tyler's GF bread and process them to make crumbs.)
1/3 cup coarsely shredded Gouda or Monterey Jack cheese, plus more for topping
Burger buns, split and toasted, for serving
Lettuce, sliced tomato, sliced onion, for serving
directions:
Melt the butter in a large skillet over medium-high heat. Add the mushrooms to the pan and cook, stirring occasionally, until the mushrooms have cooked down and almost all of their liquid has evaporated, about 7 minutes. Stir in the garlic and cook 30-60 seconds more. Remove the pan from the heat and let cool slightly.
In the bowl of a food processor, pulse the oats until they are as finely ground as possible. Add in the mushroom mixture, salt, pepper, parsley and thyme. Pulse the mixture until the mushrooms are very finely chopped. Transfer to a bowl and fold in the egg and bread crumbs. Let the mixture stand a few minutes so that the oats will absorb some moisture. Fold in the shredded gouda and, if needed, additional breadcrumbs. Form the mixture into 4 equal patties.
Cook the patties as desired, either in a skillet or on a grill, turning once and cooking until both sides are evenly browned and the patties are warmed through. A few minutes before the second side is finished cooking, top with additional cheese and cook until melted. Serve on toasted burger buns with lettuce, tomato and onion, as desired.
Adapted from Annie's Eats.