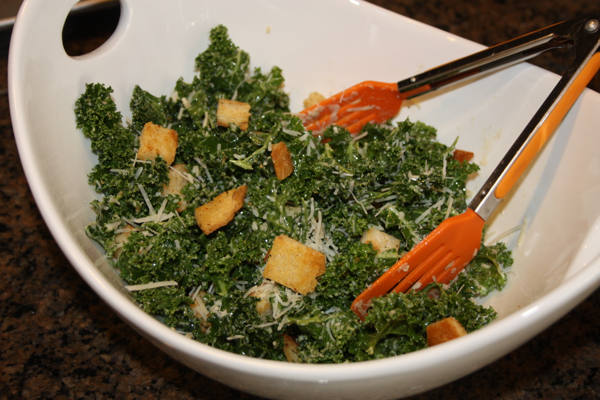 This year for Valentine's Day, I requested a small at home family affair. I know many people may say they don't want gifts or a big deal made, but then secretly they are wanting some sort of surprise. This was not me. I am one to speak what I mean and mean what I say. This summer we are going on a highly anticipated trip to St. John in the US Virgin Islands. It is a return for Jeffrey and me though it will be a new experience for William and Tyler. I honestly would rather have whatever money that would have been spent on Valentine's day to go toward something fun on our trip.
Does this mean we didn't celebrate in some way? No! We had homemade waffles to start our morning, a simple lunch and then a fabulous pot roast with this caesar salad for dinner. My Valentine's was complete because I was able to spend time in my kitchen with my family. We made delicious food and good memories. This is what is important to me.
I have always been a fan of Caesar salads and this salad did not disappoint. I loved it! It was fun to make our our dressing and the kale was yummy and healthy. Win Win in my book. I can't wait to have it again.
Massaged Kale Caesar Salad
ingredients:
For the dressing:
1/4 cup olive oil
2 tablespoons freshly squeezed lemon juice
1/4 teaspoon Worcestershire sauce
3-4 cloves garlic, finely minced or pressed
1 1/2 teaspoons anchovy paste
2 1/2 tablespoons mayonnaise
Freshly ground black pepper, to taste
1 oz. Parmesan cheese, finely grated
For the salad:
1 bunch curly kale, about 8-12 oz.
1 tablespoon olive oil
Croutons (we cubed and toasted some sour dough bread with olive oil, garlic powder and parsley)
Grated Parmesan cheese, for serving
directions:
To make the dressing, combine the olive oil, lemon juice, Worcestershire, garlic, and anchovy paste in a small bowl or liquid measuring cup. Add in the mayonnaise and whisk briskly until a smooth emulsion has formed. Season to taste with freshly ground black pepper. Stir in the grated Parmesan. Taste and adjust seasonings as necessary.
Remove and discard the ribs from the leaves, and tear the curly green portions into bite size pieces. Add the kale to a large salad spinner and rinse and spin until cleaned and dried. You may need to use a paper towel to make sure the kale is a dry as possible. Put cleaned and dried kale into salad bowl with the 1 tablespoon of olive oil, and toss briefly. Massage the kale leaves for a few minutes until the leaves have become shiny and a deeper green color, about 2-3 minutes. Add croutons to the salad as desired. Drizzle about half of the dressing over the salad and toss lightly to coat. Taste and add additional dressing as necessary, a little bit at a time. Top with additional grated Parmesan and croutons before serving.
Adapted from Annie's Eats.