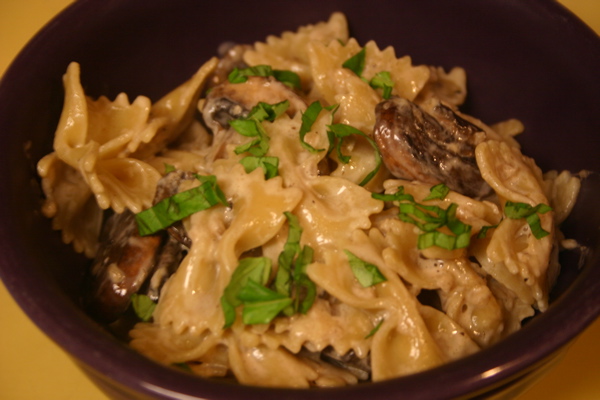 My motto in eating is "all thing in moderation" and you will definitely see this motto carried through in my blog. I am always willing to try new things and will sometimes come up with something that will surprise my family and friends. I think that is what makes cooking fun. When you are always cooking the same things over and over, cooking becomes boring and then something that was relaxing and fun stops being fun or relaxing (at least this is the case for me).  This is why I am always seeking out new recipes or trying variations of old favorites or coming up with themes for the week.
To mix things up around our house, this past weekend our family had a vegetarian weekend. I am by no means a vegetarian, but I know that a meal doesn't need to include meat to be delicious. If meals don't have meat, I want the meal to be satisfying and so tasty that I don't even realize I am doing without meat. This recipe is one where you won't be missing meat.
With the hearty mushrooms and a delicious flavor, you will not miss the meat at all nor will you be hungry an hour or so after eating. We enjoyed our pasta with crusty bread and were completely happy (full too!).  The biggest challenge was to avoid going back for thirds and fourths. I loved it that much. I do think you could serve this as a side to grilled chicken or even toss in some grilled chicken if you or your family feel you need some meat to make the meal complete; however, try it without any meat the first time.  I think you might be surprised at how good a vegetarian dish can be.
Creamy Mushroom Pasta
1/2 pound bow-tie pasta (or pasta of your choice)
1 tablespoon butter
16 ounces of sliced baby bella mushrooms
1/2 onion, finely chopped
1 tablespoon minced garlic
1 teaspoon salt
1/4 teaspoon black pepper
1/4 cup white wine (I used a Pinot Grigio)
2/3 cup whipping cream
1/2 cup parmesan cheese, grated
chopped fresh basil for garnish
Cook pasta according to directions on box. While the pasta is cooking, begin making your sauce.
Melt butter in a large skillet over medium-high heat. Add mushrooms, onion, garlic, salt, and pepper cooking for 12 minutes. Stir occasionally. You will know the mixture is ready because all of the moisture from the mushrooms will evaporate and the mushrooms will be tender. Add wine and cook for an additional 2 minutes, stirring occasionally. Remove from heat. Add the whipping cream and cheese, stirring until the cheese is incorporated. Add the pasta and toss carefully to coat. Garnish with chopped basil (if desired) and serve.
Adapted from Cooking Light