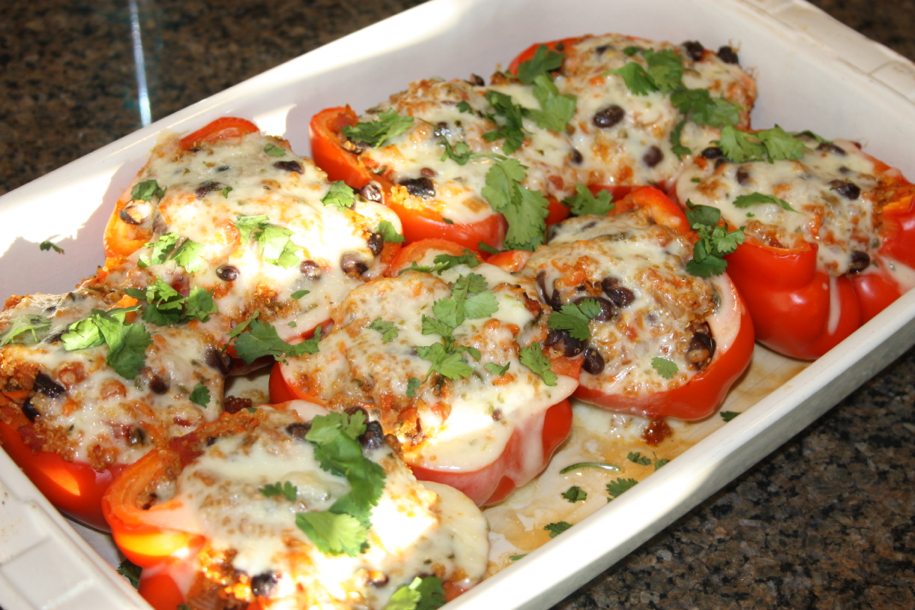 It is hard to believe but school and soccer are in full swing at our house. I am adjusting to the more structured schedule and trying my best at having a healthy meal ready when we get home from soccer practice. I try to do most of my prep work in advance and then leave last minute instructions for Jeffrey so dinner will be waiting when I get home with whomever has practice on the given night. I know school has only been in session for a week and soccer practice has only been going on for two weeks though I find I already need to keep reminding myself: I can do this. We can make it through soccer season. I am sure I will be a pro at this advance planning/meal prep by the end of the season, but I am just settling in now and it is craziness.
I am always on the lookout for new recipes and when I came across this one I knew I had to give it a try. It is fantastic. I am really starting to enjoy quinoa. I think this quinoa chili was what put me over the edge and I haven't look back since. I even already have a new quinoa recipe on my menu plan for the next week or two. I can't wait!
Mexican Quinoa Stuffed Peppers
ingredients:
3/4 cup quinoa
1 1/2 cups grated carrot
1 3/4 cups water
1 (15 oz) can black beans, rinsed and drained
1 tablespoon olive oil
1 small onion, diced
1 small jalapeno, diced
2 cloves garlic, minced
1 tablespoon chili powder
1 teaspoon ground cumin
1 teaspoon paprika
1/2 teaspoon dried oregano
1/2 teaspoon pepper
1/4 teaspoon salt
1 (15oz) can diced tomatoes
1 tablespoon lime juice
1 1/2 cups grated cheese, divided (pepper jack, colby jack, or a mexican blend work well)
⅓ cup fresh cilantro, chopped (plus more for garnish)
4 large bell peppers (red, yellow, or orange), halved lengthwise, ribs and seeds removed
guacamole and or sour cream for serving
directions:
Preheat oven to 350 degrees. Lightly grease a large baking dish.
Stir the quinoa, carrots, and water together in a medium saucepan. Bring to a boil over medium high heat, then reduce heat to low and simmer covered for about 20 minutes, or until quinoa is tender and liquid is gone. Stir in the drained black beans and set aside.
In a large skillet, heat olive oil over medium heat. Add onion, jalapeno, and garlic and saute until tender, about five minutes. Stir in spices and saute for an additional minute. Add the tomatoes and lime juice to the onion mixture. Bring to a boil and simmer until most of the liquid has evaporated, about 8 minutes. Add the quinoa and beans to the onion mixture. Stir in 3/4 cup of grated cheese and cilantro. Fill each bell pepper half with a heaping 1/2 cup quinoa mixture.
Place the stuffed peppers in baking dish. Cover with foil and bake 40 minutes. Uncover and sprinkle with remaining grated cheese. Bake uncovered for 15 minutes more, or until cheese is browned and bubbling. Let cool slightly before serving. Top with guacamole, sour cream, and or fresh cilantro.
To Freeze: Place the uncooked stuffed peppers on a lined baking sheet and freeze until solid. Remove frozen peppers from pan and seal them in freezer ziploc bags. When ready to cook top with cheese and bake. You may need to increase cooking time.
Recipe adapted from Good Life Eats