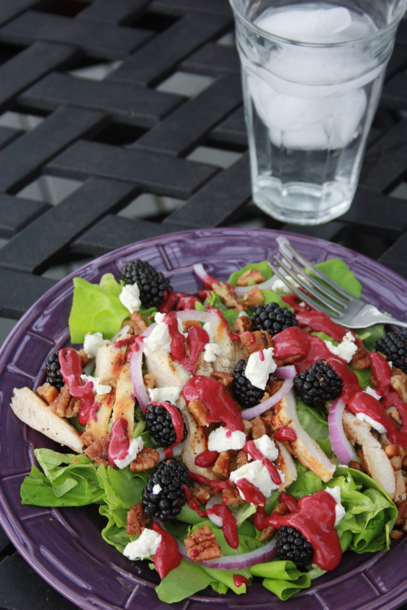 I remember as a little girl going to a steak house with my family for dinner. I loved salad (well maybe I loved eating the Club crackers and dipping them in the salad dressing) so on one occasion I remember ordering a chef salad. Well, they brought the salad out and I burst into tears. This was not the salad I envisioned. I was looking for my iceberg lettuce and croutons to eat with salad dressing and more club crackers. The waitress quickly remedied the situation and took back the chef salad and brought back more of a side salad. I was in heaven.
Well times have changed! I now like much more variety in my salads. Although there are times that I do enjoy iceberg lettuce, it is few and far between in my salad consumption. Summer is an excellent time to take advantage of eating salads for dinner and this salad is a personal favorite. I can just imagine my younger self receiving this salad at a restaurant and bursting into tears, but things they have changed. It makes me wonder what memories my boys will have about their food consumption when they get older.
Blackberry Chevre Salad
ingredients:
For the dressing:
6 oz. fresh blackberries, rinsed
3 tablespoons red wine vinegar
1 1/2 tablespoons honey
1/4 cup olive oil
Salt and pepper, to taste
For the spiced nuts:
1 tablespoon butter
1 tablespoon brown sugar
1/4 teaspoon ground cinnamon
Dash of ground ginger
Dash of cayenne pepper
Salt and pepper, to taste
3/4 cup chopped walnuts or pecans
For the salad:
Mixed salad greens
2 oz. honey goat cheese
About 6 oz. fresh blackberries
Thinly sliced red onion
grilled chicken breasts (about 1 per person)
directions:
To make the dressing, place the berries in a food processor or blender and puree until smooth. Pour the mixture through a fine mesh sieve, pressing out as much fruit puree as possible while removing the seeds. (I use my Vitamix so I don't worry about straining out any seeds.) In a liquid measuring cup or jar, combine the blackberry puree with the vinegar, honey, and olive oil. Whisk vigorously until the mixture is well blended and smooth. Season with salt and pepper to taste. Chill until ready to use.
To make the spiced nuts, melt the butter in a medium skillet over medium heat. Stir in the brown sugar, cinnamon, ginger, cayenne, and salt and pepper to taste. Allow the mixture to heat for about 1 minute, then stir in the chopped nuts. Let cook, stirring occasionally, until the nuts are lightly toasted, about 5 minutes. Remove from the heat and let cool.
To serve, plate portions of salad greens on salad plates. Top with grilled chicken, crumbled goat cheese, fresh blackberries, red onion and the spiced nuts as desired. Drizzle lightly with the blackberry vinaigrette. Serve immediately!
Adapted from Annie's Eats.