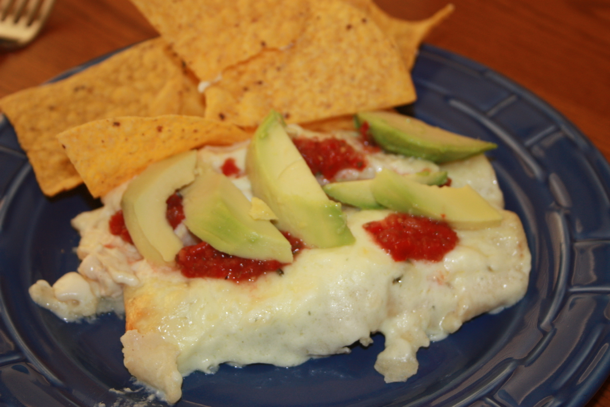 We make a lot of Mexican food at our house. Until recently, enchiladas weren't on the menu very often. My boys were not huge fans and it seemed easier just to make burritos or tacos. When I made an enchilada casserole on our ski trip this past winter, both William and Tyler really enjoyed it. There positive reaction made me start thinking about enchiladas again.
My mom used to make these chicken enchiladas and I always enjoyed them. I hadn't made them in quite some time. When I my sister-in-law Julie told me she made them the recently, it made me hungry for them. The downside that I remembered about this recipe was that it seemed to take forever to make. One evening last week when I had adequate time to prepare dinner I knew it was the perfect occasion. To my surprise they didn't take as long as I had remembered. I saved some time by opting to warm the tortillas in a dry skillet as opposed to frying them like my mother did.  I didn't miss frying the tortillas (either in terms of taste or mess) and the enchiladas still came out quite delicious. Everyone at our home  enjoyed them and it was a creamy delicious trip down memory lane for me.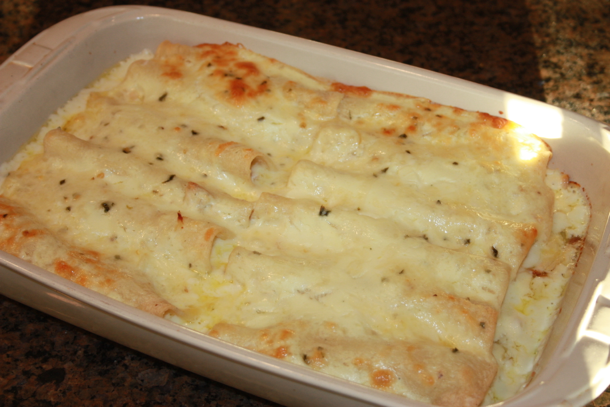 Mom's Chicken Enchiladas
ingredients:
1 dozen corn tortillas
1 cup cooked chicken, shredded
1/4 cup chopped onion
1/2 stick butter (1/4 cup)
2 tablespoons corn starch
2 cups chicken broth
1 cup sour cream
2 cups pepperjack cheese, grated
directions:
To make the white sauce:
Melt the butter in a small saucepan. Add the corn starch and chicken broth whisking until well combined. Cook until the sauce thickens. Once the mixture has thickened, remove from heat and add the sour cream and some of the grated cheese. You will want to save some cheese for inside the enchiladas and some for the top so use your best judgement.
Spread a small amount of the sauce in the bottom of a 9X13 baking dish that has been sprayed with nonstick cooking spray.
Heat the tortillas in a dry skillet until they are pliable (about 30 seconds). Combine chicken, onion and a small amount of cheese in a bowl and stir to combine. Divide this mixture evenly among the tortillas. Roll the tortillas and place seam side down in the baking dish.
Pour the remaining sauce over the enchiladas, sprinkle with remaining cheese. Bake for 20 minutes at 425 degrees or until slightly browned and bubbly.
Serve with fresh salsa, avocado slices and tortilla chips.