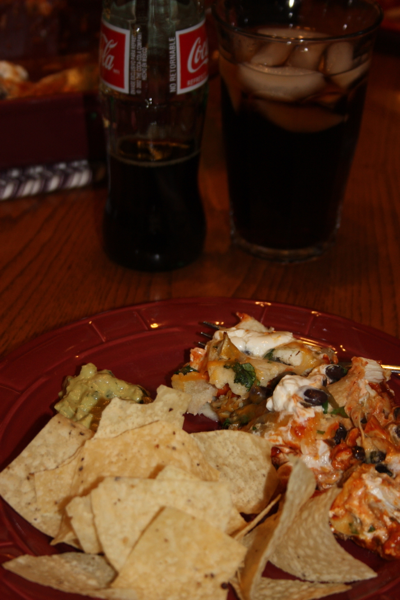 Is it bad that I have started counting down until summer break? Well, I actually haven't started counting down the days, but I am already looking forward to the lazy days of summer when Labor Day is just around the corner. Oh well, I will survive.
I think the craziness that comes with the beginning of school has had me in the kitchen cooking comfort foods. It is no surprise that Mexican food is comfort food in our house. I recently saw a picture of an enchiladas casserole on Pinterest and was inspired to make my own version. I loved it! I even loved the leftovers and I am usually not a fan of leftovers. I enjoyed the leftovers so much that I even sent Jeffrey a text message telling him how much I loved the casserole even heated up for lunch.
The recipe was easy to put together thanks to some chicken I had cooked and frozen earlier. I even found gluten-free enchiladas sauce so it was a family friendly meal with barely any adjustments to make it gluten-free for Tyler.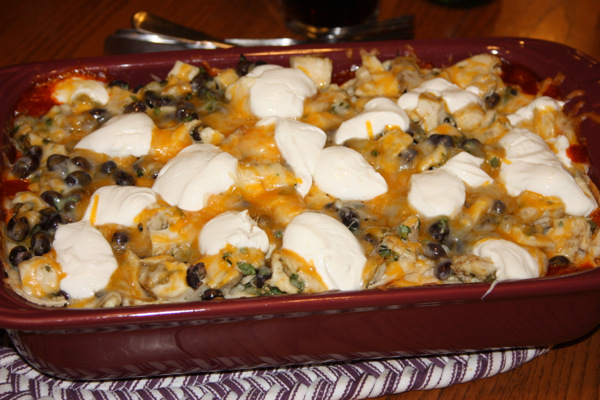 Enchiladas Casserole
Printer Friendly Recipe
Ingredients:
2 cups cooked chicken, shredded or cubed
1 teaspoon cumin
1/2 teaspoon garlic powder
2 tablespoons fresh cilantro, chopped
1 can black beans, rinsed and drained
1 (4.5 ounce) can diced green chilies, drained
1 can enchiladas sauce
8 (6-inch) corn tortillas
2 cups shredded Mexican blend cheese
1 cup sour cream
Directions:
Preheat oven to 375 degrees.
In a large bowl combine the cooked chicken, cumin, garlic powder, cilantro, black beans, and green chilies. Stir to combine. Spray an 11X7 casserole dish with cooking spray. Pour half of the enchiladas sauce in the bottom of the casserole dish spreading it out to cover the bottom. Place 4 tortillas over the sauce, overlapping as necessary. Spoon half of the chicken mixture over the tortillas. Sprinkle with 1 cup of cheese. Dollop 1/2 of the sour cream over the cheese. Spread as necessary.
Pour the remaining enchiladas sauce over and top with the four remaining tortillas. Top with the remaining chicken mixture. Cover with foil and bake for 30 minutes. Remove the foil, sprinkle with the remaining cheese and sour cream and bake an additional 5-10 minutes or until the cheese is melted.
Serve with tortilla chips, salsa, and guacamole.