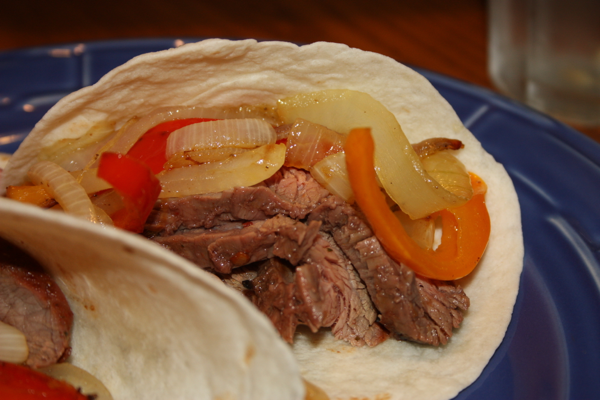 I can't believe that I have been blogging this long and that I am just getting around to posting this recipe. In all honesty, I was sure I had already shared it with you. It is one of my all time favorite recipes. It wasn't until I was looking for the recipe for Cinco de Mayo post that I realized it wasn't on my blog. I apologize! This recipe should have been shared sooner.
I have always loved fajitas, but until a few years ago I only ordered them in restaurants. What a shame! Now thanks to my chicken fajita recipe and this steak fajitas recipe I can have delicious fajitas whenever my heart desires. Everyone in our family loves this recipe and it is super easy to throw in the marinade before heading off to work. You will not be surprised that my choice for the cut of meat is a flank steak (Jeffrey suggested I create a tag just for flank steak I love it so much). Let me tell you though that grilling outside is a must. If you are tempted to use a grill pan indoors, don't do it! The chipotle pepper in the marinade creates a fair amount of smoke when you grill them,  Our one and only attempt to make this indoor felt like someone had released tear gas in the house. My family thought I was trying to kill them. (We were all in tears and coughing, so take my word and do this outside on the grill.)
If you enjoy fajitas, please put this on your list to try soon! You will not be disappointed and you too can enjoy fajitas without having to go to a restaurant.
Grilled Steak Fajitas
Printer Friendly Recipe
Ingredients:
1 orange, juiced
2 limes, juiced
4 tablespoons olive oil
2 garlic cloves, roughly chopped
3 chipotle peppers in adobo sauce
3 tablespoons roughly chopped cilantro leaves
1 teaspoon ground cumin
1 teaspoon salt
2 1/4 pound flank steak
salt and pepper
2 bell peppers, thinly sliced (I usually use red, orange, or yellow)
1 large onion, thinly sliced
lime juice and olive oil, for sprinkling on veggies (optional)
flour tortillas
Directions:
In a 2 cup measuring cup combine orange juice, lime juice, olive oil, garlic, chipotle peppers, cilantro, cumin, and salt. Using an immersion blender, puree the marinade until smooth. Transfer mixture to a large zip-top bag with the steak. Seal and shake to coat. Refrigerate for 2-6 hours.
Preheat grill.
Grill the steak over medium-high heat and cook for 4-7 minutes per side until desired degree of doneness. Transfer to a cutting board and let rest. While the meat is resting, toss the bell peppers and onions with lime juice and olive oil and season with salt and pepper. Grill the mixture or sauté for 7-8 minutes until the vegetables have softened and have some grill marks or caramelization.
Thinly slice the meat against the grain and combine with the cooked veggies. Serve on warmed flour tortillas. with toppings of your choice. Our favorites are fresh salsa, guacamole, sour cream, and shredded cheese.