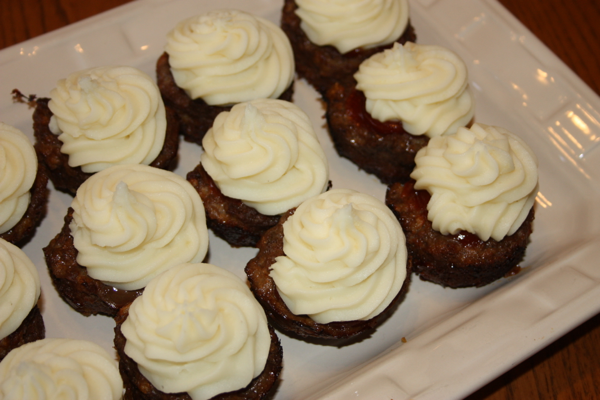 My mom's meatloaf recipe is perhaps one of my favorite comfort foods.  I know that there are some folks who hate meatloaf. I think that is in part because they haven't tried my mom's.  Jeffrey didn't used to like meatloaf.  After eating my mom's, he was converted.  I say with full confidence, that it has become one of his comfort foods as well.
Unfortunately, I don't think meatloaf is one of those foods that is very photogenic. So although I have made it numerous times over the past few years when I have been blogging I have yet to share the recipe. I have served it several times to friends when they have been over for dinner and they always ask "is this on the blog?" or "will this be on the blog?" I always assure them that it will be soon. So today is the day.
This is a very unconventional way to make the meatloaf but it was a fun treat for my family on April Fool's day this year. Jeffrey is quite the prankster and the boys are following well in his footsteps. I decided to do a little prank this year as well. When the boys got home from soccer practice they were quite concerned that mom had put frosting on their meatloaf. The first bite and they decided this type of frosting was quite delicious with the meatloaf.
So here is the recipe for Mom's meatloaf that has been adapted into cupcakes. Mom, at least to my knowledge, never baked her meatloaf in a muffin pan, but I think she would have gotten a kick out of this and probably would have given it a try to please her grandchildren.
Meatloaf Cupcakes
ingredients:
1 1/2 pounds ground beef
salt
pepper
1/4 cup finely chopped onion
1/2 – 1 cup crushed cornflakes
1 egg
1 tablespoon milk
for the sauce:
1/2 cup ketchup
1/2 tablespoon yellow mustard
1/2 tablespoon brown sugar
1/2 tablespoon apple cider vinegar
1/2 tablespoon Worcestershire sauce
1-2 tablespoons of warm water to thin the sauce (if needed)
mashed potatoes (for serving)
directions:
Preheat oven to 350 degrees.
Combine the sauce ingredients together in a 2-cup measuring cup. Use a fork or whisk to combine. Set aside.
In a large bowl, combine the meat, a dash of salt and pepper, onions, cornflakes, egg, and milk. Mix together with your hands. Add about 1/4 of the sauce mixture to the meat and stir to combine. Divide the meat evenly in a 12 cup muffin pan that has been sprayed with non-stick cooking spray. Gently pat down the meat leaving a slight indention in the center of each one. Spoon a spoonful of the sauce in each center using up the remainder of your sauce.
Bake in the oven for 25-30 minutes or until the meat is nice and brown and cooked through. Remove from oven and from muffin tin and place on a serving tray. To make them into "cupcakes" pipe mashed potatoes on top to resemble frosting.
*To make a more traditional meatloaf double all ingredients except for the egg. Instead of cooking in a muffin tray, form the mixture into two or three ovals and place in a large cast iron skillet. Pat down an indention in the center of the loaves and add the remaining sauce. Bake for 45 minutes to 1 hour. Remove from the skillet immediately.