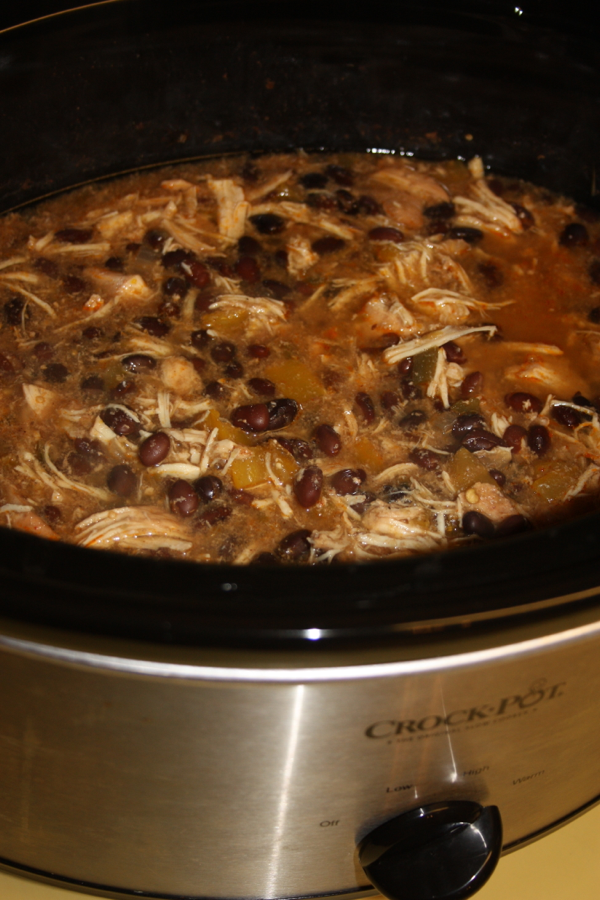 I have resumed my school year position of chief chauffeur to William and Tyler. I forget how hectic the back to school season can be and getting the boys from one activity to the next. Both boys playing competitive soccer this year has added a whole new degree of chauffeuring to my schedule. I now have to be super good about planning our meals. No winging it for me. That means it is time for me to pull out the crock-pot again. I know you normally think of your crock pot for hearty winter meals, but I am finding things that we can cook in the crock pot that go well with those last warm days near the end of summer.
Last week, I threw this chicken in the crock-pot and once we finally got home from soccer practice it was a perfect dinner for the evening. I loved eating mine over rice, but I also offered corn and flour tortillas for those wanting burritos or tacos. It was great. The flavors were superb and I could fix it and forget it.
I keep telling myself:  "I can do this." We can make it through school, soccer, meetings etc. I may just have to rely of my crock-pot a little more often though if we want to eat dinner before 9 o'clock at night. 🙂
Slow Cooker Salsa Verde Chicken
ingredients:
6 boneless skinless chicken breasts (I throw them in frozen.)
3 cans black beans, drained and rinsed
1 large bell pepper, chopped into 1/2 inch pieces (use your favorite color)
1/2 yellow onion, diced
2 cloves garlic, minced
1 (16oz) jar salsa verde
1 1/2 teaspoons chili powder
1 teaspoon ground cumin
1 teaspoon kosher salt
1/4 teaspoon black pepper
juice of 1 lime
directions:
Combine all inredients in a slow cooker. Stir to combine. Cook on high for 4-6 hours or on low for 8-10 hours. Once the chicken is fully cooked, remove and shred using two forks. Add shredded chicken back in the slow cooker and stir to combine. Let it set for about 15 minutes before serving.
Serve with warm tortillas or cooked rice and your favorite toppings. We love to top ours with chopped cilantro, avocado slices,sour cream, chopped tomatoes, and shredded cheese.