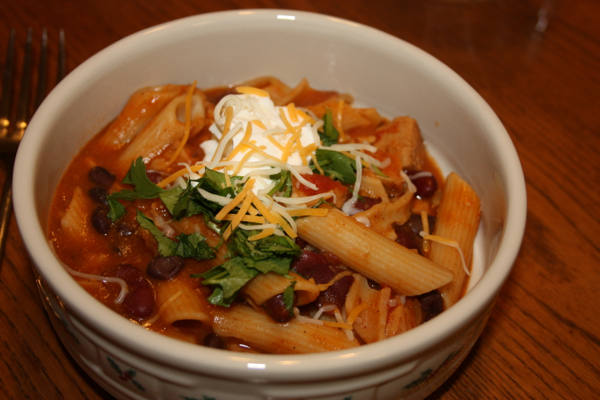 This chicken chili mac was just what we needed earlier this week when old man winter decided to show his face. While we are still waiting to see some white stuff, the temperatures did drop enough for snow to make an appearance if it has desired. All that to say that this meal was just what we needed to warm us up on a cold day.
While I didn't have any macaroni to use in my dish, it did work well with the gluten free penne I had on hand. I am sure that the macaroni would have absorbed more of the liquid, but even so it was still delicious. Everyone in the family seemed to enjoy it and it was a nice change in pace.
Chicken Chili Mac
Ingredients
1 Tbsp. vegetable oil
1 Tablespoon chili powder
1/2 teaspoon garlic powder
2 teaspoons cumin
1/2 teaspoon salt
1 lb. boneless skinless chicken breasts, cut into chunks
1/2 yellow onion, diced
2 cloves garlic, minced
1 15 oz. can diced tomatoes, slightly drained
1 Tbsp. tomato paste
1 15 oz. can kidney beans, drained
1 15 oz. can black beans, drained
4 cups (32 oz.) chicken broth
2 cups whole grain elbow pasta, or your pasta of your choice
Toppings
Shredded cheese (cheddar, Monterey jack or pepperjack)
Chopped cilantro
Green onions
Sour cream/Plain greek yogurt
Hot sauce
Directions
In a medium bowl, combine oil, chili powder, garlic powder, cumin, salt and pepper. Add chicken chunks and toss to coat.
Heat a large skillet to medium-high. Once hot, add chicken and onion. Cook until chicken is no longer pink. Add garlic and cook 1 more minute.
Add diced tomatoes, tomato paste, beans and chicken broth. Bring to a boil. Add pasta and cover pot, stirring occasionally. Cook for about 7 minutes, or until pasta is al dente. Serve in bowls and top with desired toppings.