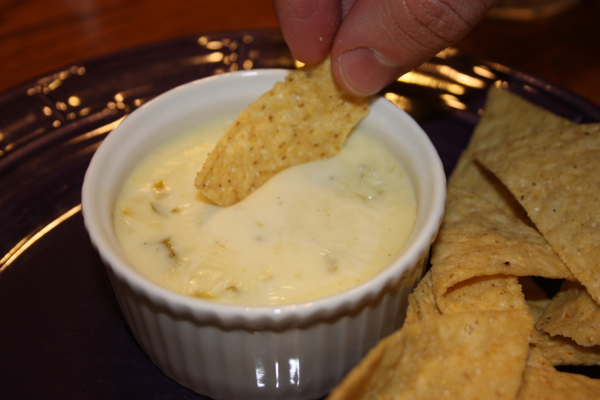 I don't know about your family, but my family (both immediate and extended) loves the white queso dip you get at Mexican Restaurants. I think it is an obsession that is acquired early in life. I only say this because both of my nieces love white queso dip. The youngest of the two will actually eat all of the crumbles (as she calls them) so she can dip her fingers in the cheese dip with the last broken pieces from the basket of chips. My other niece, Lexie, also loves cheese dip and that is what she orders when we go out for Mexican food. This dip is the entirety of Mexican cuisine in her mind. One day, as we were driving around to look at Christmas lights, we were changing the radio station looking for music to appease everyone in the car. We came across mariachi music and Lexie exclaimed that she wanted to listen to the "cheese dip music." Jeffrey and I found it quite hilarious and I can't eat cheese dip now without thinking of Lexie and her love for queso.
My two neices are not the only ones who love queso. Several family members have been on a quest for almost a decade now looking for just the right mixture that will get us close to the beloved dip of the restaurant. I have come close a couple of times though the consistency was just not there–until this time. I came across this recipe and then did more research into what others suggest putting in the dip. I was astonished to learn that several restaurants use a white American cheese that is only available to restaurants.
After all my research, I decided this recipe was worthy of a try and I think my immediate family is quite happy that we did. It is the closest that we have ever gotten, and I think I can end my pursuit of the cheese dip recipe. I hope you give this one a try. The recipe makes quite a bit of dip; however, I have been happy to have it in the refrigerator for the last week and I know your friends won't complain about having to come over and enjoy it with you.
Lexie, this recipe is for you. I hope you enjoy it as much as we did.
White Queso Dip
Printer Friendly Recipe
1 1/4 lb block White American Cheese, cut into 1-inch cubes
1/4 cup diced green chiles
2 pickled jalapenos, chopped
2 tablespoons pickled jalapeño juice (the juice from the jar of the jalapeños)
2/3 cup whole milk
1/2 cup cold water
pinch of cumin (optional)
Place all ingredients into a large microwave-safe bowl. (I use a 2-quart batter bowl.)Microwave on high for 5 minutes, stopping to stir after every minute. Depending on your microwave you may need to microwave longer just make sure you are stirring every minute. The mixture might seem watery during the first few stirs, but it will come together as a nice runny dip after all the cheese is melted.
Serve immediately as a dip with tortilla chips or as a sauce over your favorite Mexican dish.
*Recipe Note: White American cheese is found at most deli counters in your local grocery store.
*Reheat Instructions: Store any leftover cheese dip in the fridge. Reheat in the microwave, stirring every 30 seconds until creamy and hot.