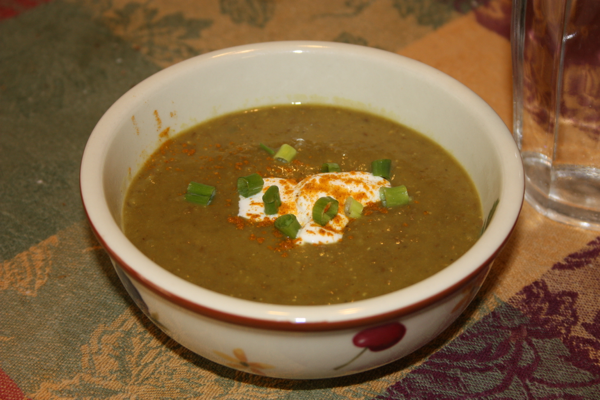 After eating beans for the last couple of days, I decided I needed something different for lunch yesterday. Don't get me wrong–I love beans, but I was just needing a change of pace. This soup was just what I needed. It was still very healthy, warm and filling with the flavor change I needed.
I first saw this recipe about a month ago and stashed it away as a recipe I wanted to try. I am getting more adventurous with coconut milk and curry so thought it would be a fun soup to try. I really enjoyed it. The flavor was exceptional and was just what I needed for a healthy lunch. I actually halved the recipe and ate one bowl and saved the rest to heat up for another meal. I can honestly say I am looking forward to these leftovers.
The soup is not very beautiful, but honestly most pureed soups strength is not eye appeal. I do, however, think this would be a great soup for a Halloween celebration due to its green color. Nothing is better on Halloween than a nice hearty bowl of soup before heading out to get a year's supply of candy. 🙂 If you aren't sure you are ready to venture into a lentil soup, try one of my yummy chili recipes (white chili, lentil chili, beef chili, chili con carne) before heading out to trick or treat.
Coconut Curried Green Lentil Soup
Printer Friendly Recipe
Ingredients:
2 tablespoons unsalted butter
1 tablespoon curry powder
2 teaspoons minced garlic (about two cloves)
1 large sweet onion, chopped
5 cups of vegetable broth or water (I use half vegetable broth and half water.)
1 1/2 cups green lentils, rinsed
1/2 cup coconut milk
1 teaspoon sea salt
fresh chopped chives, plain greek yogurt, and pinch of curry powder (for garnishing)
Directions:
Melt butter in a large stockpot over medium-high heat, then add curry powder, garlic, and onion. Saute for about 3-4 minutes on medium heat, stirring often so the garlic doesn't burn.
Add vegetable stock, water and green lentils. Bring soup to a boil, then partially cover and reduce heat to low. Simmer for between 20 and 50 minutes (or until lentils are tender).
Once the lentils have finished cooking, remove soup from the heat and stir in the coconut milk and salt. Puree the soup using an immersion blender or regular blender (in batches if using regular blender) until it is as smooth or as chunky as you prefer.
Serve immediately with your choice of garnish. (I topped mine with yogurt, green onions, and a sprinkle of curry powder.)