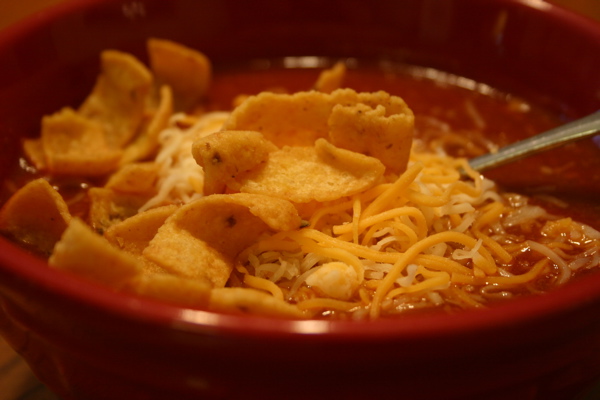 There is nothing better than a bowl of chili on a cool fall day.  Around our house, we always have chili on Halloween regardless of the temperature outside.  This year we were fortunate and the weather was perfect for a bowl of chili. It definitely warmed us up before we went out in the chilly weather for trick-or-treating.
When I married Jeffrey, one of the areas of difference in our culinary upbringings was what we expected when it came to chili.  After being married now for a number of years, I think we have found a way to combine the best of both of our recipes.  Based on that, you could say that my chili is a hybrid of my mother's recipe and my mother-in-law's recipe.  Neither of the original recipes were very spicy so I like to"kick it up" a couple of notches.  If you like your chili to be a bit spicier, go for the extra hot Rotel.  After we had kids, our chili had to be mellow.  As both of the boys are starting to enjoy spicier food, I'm looking forward to spicier chili.  How hot do you like your chili to be?
We love to have chili when we have a big gathering of friends. It scales easily and everyone can chip in by bringing toppings or sides.  Our gathering this Halloween was large enough that we had a mellow and a medium pot of chili.  Our guests brought corn muffins, Fritos, cheese, sour cream, drinks, and dessert. It was perfect. Some other items that are great with chili are fruit salad, Mexican corn bread, and of course hot dogs for chili dogs. How do you like your chili? What is the strangest thing you've had in chili? (Jeffrey would say it was Ostrich when my family surprised him one Christmas substituting the ground beef for ostrich meat.)
Beef Chili
3 lbs. ground beef
1 small onion, chopped
2 tablespoons finely chopped garlic (about 4 cloves)
2 tablespoons chili powder
2 teaspoons Worcestershire sauce
2 teaspoons cumin
1 tablespoon sugar
1/2 teaspoon Tabasco
1 teaspoon oregano
3 teaspoons paprika
1/2 teaspoon ground black pepper
2 teaspoons salt
1 teaspoon beef bouillon granuals
1 can Rotel (use heat level of your choice.)
dash of cinnamon
3 cans tomato puree (size is approximately 10 oz.)
3 cans of water (use the tomato puree cans to insure all of the puree is gotten out)
3-4 cans Bush's Chili Hot beans
Brown ground beef and onion in a large stock pot until the ground beef is cooked through. Drain meat in a colander to remove unwanted grease. Transfer meat back to the stock pot. Add garlic through cinnamon stirring to coat the meat well with the seasonings. Add the tomato puree and water stirring until everything is well combined. Bring to a boil, stirring once or twice, then cover the pot, turn heat to low and simmer for 1 to 1 1/2 hours. Thirty minutes before serving add beans and heat through.
*Once the meat and onions are cooked this can easily been finished in a crock pot.