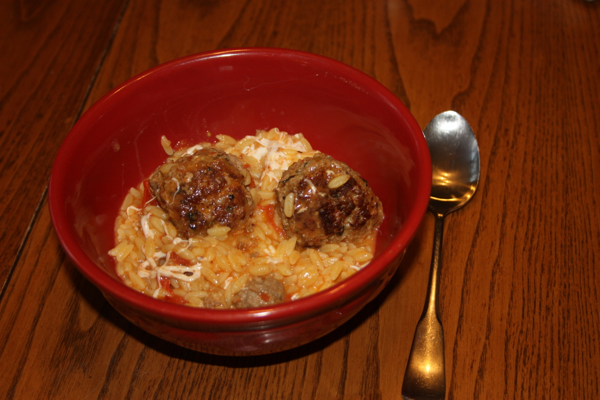 The last few weeks I have been dedicated to eating out of our pantry and freezer. This dedication is partially due to the fact that my local grocery store decided to close and the new one had not opened yet. I have found it very frustrating to have to go to other grocery stores so we have been doing with what we had on hand for the most part.
This cleaning out of our freezer has actually been a good thing and something I should do more often. More times than I want to admit, I look at our already stocked pantry and freezer and determine there is nothing to eat. I am learning we do have food to eat!
During this past snow storm the new and improved grocery store opened. I finally ventured in four days after their opening and decided it was quite nice. There are lots of good things at our new store (enough parking being a noticeable omission).  They have had quite a few things on sale and a much better variety of gluten free options. When I was at the store, there was a sale on pearl mozzarella (bocconcini) which is what made me think of this recipe. This meal may not win any awards for eye appeal, but I promise it will for flavor.
Another bonus is that this recipe comes together pretty easily for a weeknight meal. I also like that my kids eat it without complaint and it incorporates many of the flavors I associate with "comfort" food.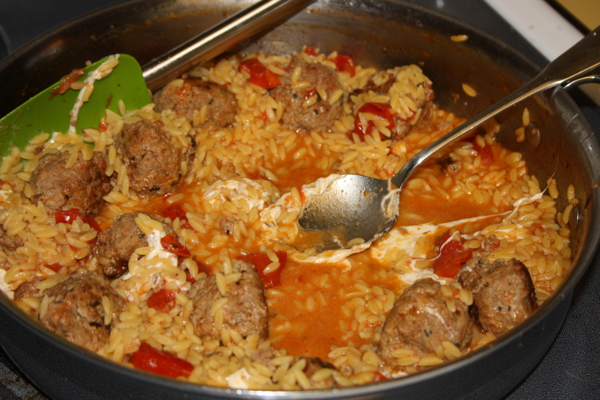 Pasta with Meatballs and Bocconcini
ingredients:
1 pound ground beef
1/4 cup italian breadcrumbs (I used gluten free corn flakes and added 2 teaspoons of Penzey's Pasta Sprinkle)
2 garlic cloves, minced
1 egg, beaten
2 tablespoons Parmesan cheese
2 teaspoons parsley
1 1/2 cup chicken broth
2 tablespoons butter
1 pint grape tomatoes, halved
8 ounces short pasta (orecchiette is preferred but I used GF orzo and it worked well)
1/2 pint bocconcini (pearl sized fresh mozzarella)
Parmesan cheese to garnish
directions:
Set a large pot of salted water to boil.
In a large bowl, combine ground beef, bread crumbs, garlic, egg, 2 tablespoons Parmesan cheese, and parsley. Mix together to combine. (I do this with my hands to make sure to distribute everything evenly.) Shape into balls using a tablespoon to get equal measurements.
In a large skillet, melt 1 tablespoon butter over medium-high heat. Add meatballs and cook turning occasionally, until browned all over. (5-7 minutes) Add 1 1/2 cups chicken broth and let simmer. Stir occasionally, until the meatballs are cooked through and the liquid is reduced to 1/2-3/4 cup. This should take about 15 minutes. Add the tomatoes and cook until they begin to soften.
Meanwhile, cook pasta in boiling water until al dente, according to package instructions. Drain, and pour over the meatball and sauce mixture stirring gently to combine. Add the bocconcini, remaining tablespoon of butter and toss to coat. Season with salt and pepper to taste and garnish with additional Parmesan cheese.
Adapted from Everyday Food September 2007