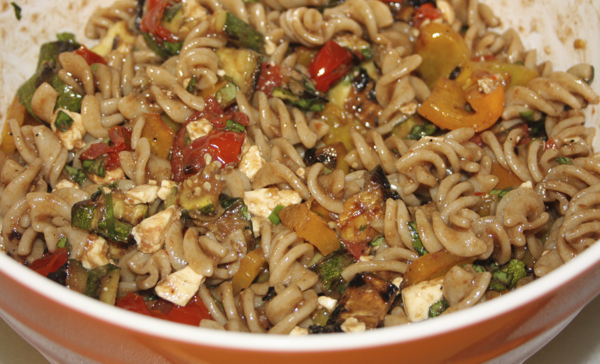 I have always loved pasta salad, so when I came across this recipe I knew I had to give it a try.
It is perfect for the last days of summer and the abundant bounty from your garden. I will confess there is no bounty from my garden this year. Giggs eats everything before it is ready to pick. He is a crazy dog though that is another story in and of itself.
I fixed this salad to go with burgers one night after the boys had soccer practice. I made the salad before practice and I couldn't get enough of it. I could have eaten the entire bowl. It was simply that good. I also enjoyed it after it had time to chill in the refrigerator, but I think room temperature is probably my favorite.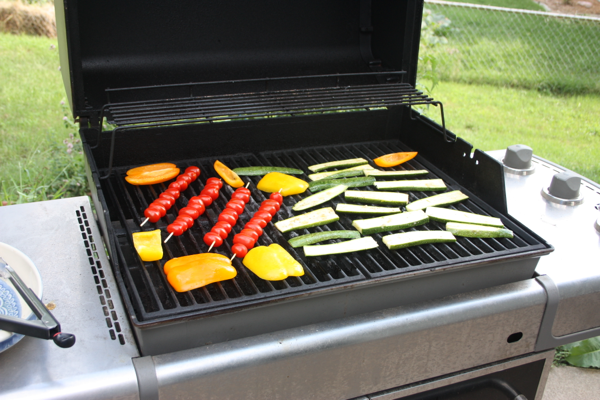 Grilled Vegetable Pasta Salad
ingredients:
1 lb fusilli (I use Tinkyada's brown rice spirals)
2 sweet bell peppers, cut into large pieces (seed and stem removed)
2 zucchini (about 6 inches long)
1 pint cherry tomatoes
½ cup fresh basil
½ cup feta cheese
1 tablespoon olive oil
1 clove garlic, minced
Coarse Salt and pepper
For the vinaigrette:
4 tablespoons balsamic vinegar
5 tablespoons olive oil
1-2 cloves garlic, crushed
Salt and Pepper
directions:
Cook pasta according to the package's directions. When done, drain and rinse under cold water.
To make the vinaigrette, combine the balsamic vinegar, olive oil, and crushed garlic in a large bowl. Whisk thoroughly and add salt and pepper to taste.
Prepare the veggies for the grill while the grill is preheating. I cut the bell peppers into 4 large pieces each, removing the seeds and stem. Slice the zucchini lengthwise into 1/4 inch slices. Tread the cherry tomatoes onto wooden skewers. Toss or brush the veggies with olive oil and minced garlic. Sprinkle with salt and pepper. You are now ready grill. The bell peppers take the longest, so make sure you put those on the grill first. Grill all the veggies until they are lightly charred on both sides.
Remove the skin from the bell peppers and cut into approximately 1 inch chunks. Cut the zuchinni into 1 inch chunks as well. Cut tomatoes in half or leave whole depending on your preference.
In the bowl used to make your dressing toss in the pasta and roasted veggies. Tossing to coat in the dressing. Add the basil, either snipping or tearing it into small pieces, and crumble in the feta. Toss again and season with salt and pepper. Serve hot or cold.