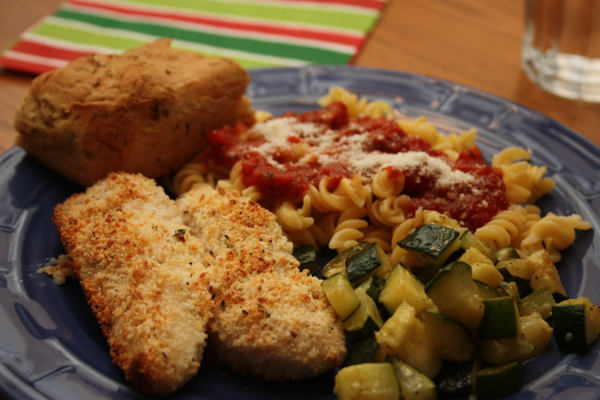 I love chicken Parmesan and it is a nice variation from spaghetti with meat sauce at our house. Since going gluten free I have relied on grilling chicken for my chicken Parmesan, but the weather is not always favorable for grilling. This Parmesan crusted chicken is a great alternative. You could even top it with marinara and mozzarella but I didn't find it necessary. I just served ours with pasta and marinara on the side. It was perfect. All the flavors of chicken Parmesan without  frying.
If you are not a fan of marinara sauce, skip it all together as the chicken is still incredible. It would be lovely served with a side of wild rice and veggies. This chicken is so versatile and delicious and perfect for a quick weeknight meal.
Parmesan Crusted Chicken
ingredients:
1/2 – 1 cup Grated Parmesan Cheese
1 envelope GOOD SEASONS Italian Dressing Mix
1 1/2 pounds boneless, skinless chicken breasts or chicken tenderloins
directions:
HEAT oven to 400°F.
Combine parmesan cheese and dressing mix in a large shallow dish. Moisten chicken with water and then coat in the cheese mixture. Place in a baking dish coated with non-stick cooking spray. After all the chicken has been coated and placed in the pan I sprinkle the remainder of the cheese mixture over the chicken for a thicker coating on top.
Bake for 20-25 minutes or until chicken is fully cooked. If needed stick under the broiler for a few minutes at the end for a crispy and toasty finish.