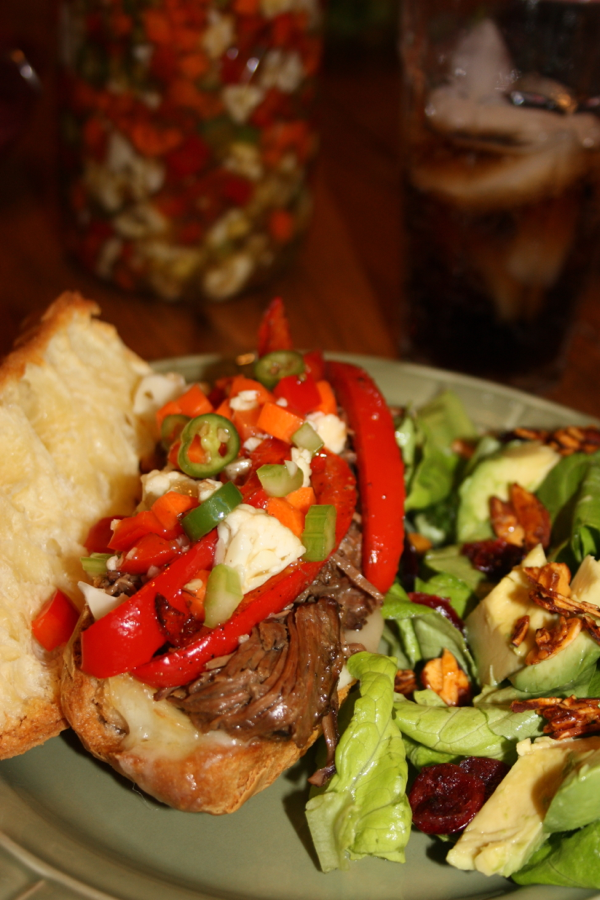 One of my favorite recipes and one that Dinah uses frequently for catering is Italian Beef. She saw the recipe she uses on a newsletter one of my friends published.  Since then, I've lost count of the times we've had Italian Beef.  I still enjoy the recipe, but sometimes I like to try new things.  When I'm not the one cooking though, I know better than to complain when I'm blessed with all of Dinah's cooking.
On a regular basis, Dinah says, "What do you think about this recipe?"  She passes over her iPad and I take a quick look.  Ninety-nine point nine percent of the time I say, "I'd try that" or "it looks good to me."  For Valentine's Day Dinah told me she wanted to try this recipe. I'll be honest, when I saw the topping, which is called a "Hot Giardiniera," I was a bit suspicious. However, if I have learned anything over the years of being married to Dinah, it is to trust her taste buds. If she thinks it looks or sounds good, she is probably right.
With the addition of "Hot Giardiniera," to the Italian Beef, this sandwich perks up in flavor by several orders of magnitude (Dinah's Comment: This beef is good, but much more labor intensive. If you don't have time, use the original and add the toppings).  I really liked the "Hot Giardiniera" though Dinah caught me picking out the Serrano peppers. I liked all the veggies, but I could have gotten by with just the peppers. What can I say, I like spicy! Dinah is a sweetheart and didn't use the nasty green bell peppers the recipe called for originally instead replacing them with delicious red bell peppers. I will also say that I'm glad our Valentine's meal was an informal one with the family because these sandwiches were so juicy I went through two napkins, and I hardly ever use napkins. We used gluten free baguettes (from Against the Grain) and they were really good with the sandwiches.
Dinah was tired today after helping with parties at school and prepping for an upcoming catering gig, so when she half-jokingly said, "Would you write my post for me tonight? I'm really tired." I jumped at the opportunity. If I teach my boys anything, I hope they learn this lesson about marriage:  "Right now is the right time to be earning brownie points."  I think that lesson is doubly true on Valentine's Day when your wife is tired.  Dinah, I love you and thanks for a really, really tasty supper!
Gluten Free Chicago Style Italian Beef
Printer Friendly
Serves: 6
Pot Roast:
1 Boneless Beef Chuck Roast (About 3 Pounds)
Kosher Salt and freshly Ground Black Pepper
2 Tbsp vegetable pil
1 medium onion, Roughly Chopped
6 cloves of Garlic, Roughly Chopped
1 Tbsp Dried Italian Seasoning
1 Tsp Crushed Red Pepper
½ cup dry red wine
3 cups of beef stock
2 sprigs of fresh thyme
Sweet Peppers:
2 red bell peppers, seed and cut into long thin stripps
2 Tbsp olive oil
Kosher Salt and freshly ground Black Pepper
Gluten Free Baguettes or Hoagie rolls
Havarti (Provolone or Fontina would be good too) Cheese (sliced)
Hot Giardiniera (See below or use pre-made)
Directions:
Season the roast with salt and pepper. In a large skillet or Dutch oven, heat the oil over medium high heat. Brown the roast on all sides and transfer to your crockpot.
Reduce heat to medium. Saute onions, stirring until they begin to brown. Add the garlic and saute for another 30 seconds. Transfer to your crockpot.
Deglaze the pan with the red wine making sure to loosen any brown bits left in your pan. Simmer for 5 minutes. Add the beef stock and bring to simmer. Add the thyme, crushed red pepper and Italian seasoning. Pour this mixture into your crockpot.
With your crockpot on low, cook the roast for 8 hours (5 to 6 hours on high). The meat should fall apart easily. Remove the meat from your crockpot to a large cutting board and shred with two forks and then add the meat back into the crockpot. (I strained my juice to remove the onions though you don't have to do that)
Preheat your oven to 350 degrees F. Toss your red pepper with oil and then add salt and black pepper. Arrange evenly on a baking sheet and roast for about 20 minutes stirring after 10.
Turn your oven to broil, then broil the bread with the cheese slices until the cheese melts and your bread browns slightly. Top with beef, peppers and hot giardiniera.
Homemade Hot Giardiniera
Yield: 3 to 4 cups
1/4 cup table salt
1 cup diced carrots (finely diced)
1 cup cauliflower florets (finely diced)
1 stalk celery (finely diced)
1 red bell pepper(finely diced)
5 serrano peppers, sliced thinly (more or less depending on your taste)
2 cloves garlic, minced
2 cups water
1 ½ cups canola oil
1 Tbsp dried oregano
½ tsp freshly ground black pepper
Day 1: Disolve salt in 2 cups of water in a glass bowl. Add all of your vegetables and garlic to the water. Stir. Cover and refrigerate overnight.
Day 2: Rinse and drain the veggies. Add oil, oregano and pepper to a quart mason jar. Put on the lid then shake to combine. Add the rinsed veggies and shake again. Refrigerate overnight.
The Giardiniera will last 2 to 3 weeks in the refrigerator.