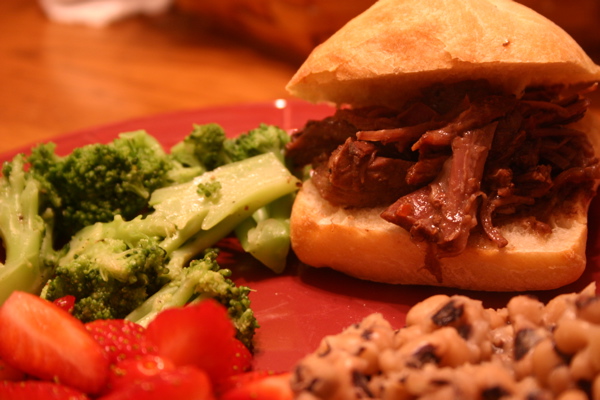 If you need an easy meal, make sure to put this one on your meal plan. I received this recipe from a friend and had it on top of my recipe file to make for almost a month. With Christmas, traveling, and all of the chaos that came with the holidays it just kept getting put off. Last week I knew I had to make it. Boy was I glad that I did. Now I only wish I had tried it earlier. It is very tasty and very simple.
One of my favorite parts of the recipe is that I was able throw it into the slow cooker and enjoy a warm meal at the end of a busy day with minimal work on my part. I know that many of you like slow cooker recipes as well so add this one to your repertoire. My children even loved it! This would make a great addition for any get together. We served ours on ciabatta rolls (the take and bake variety) with some steamed broccoli, fresh fruit, and leftover black-eyed peas. YUMMY! My friend suggested serving it with cheesy potato casserole, oriental slaw, fresh fruit, and a veggie tray. I think it would be delicious that way as well.
I hope you enjoy this recipe as much as I did. I love when others share friends with me. I got an excellent pizza dough recipe the other day after my pizza sauce recipe and I LOVE IT! I can't wait to share it with you.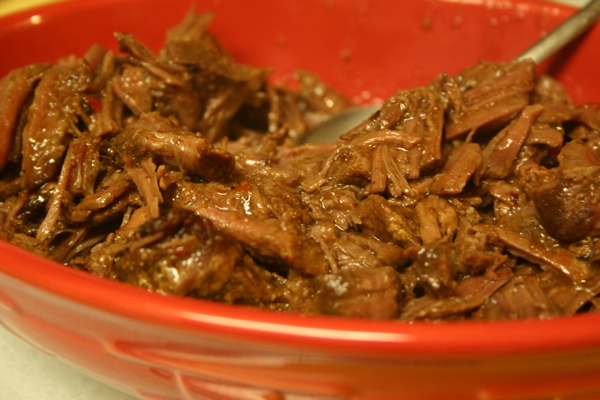 Italian Beef
Ingredients:
2 packets dry italian dressing mix
1 au jus packet (I used Knorr brand.)
3-4 pound beef roast (shoulder roast, chuck roast, bottom round, or rump roast)
1 cup water
Directions:
In a small saucepan, mix italian dressing mixes, au jus mix and water. Heat and stir over medium heat.
Put roast in crock pot. Pour liquid over meat and cover with lid. Cook on low for 8-10 hours. When the meat becomes tender (usually after hour 6 or so), pull apart with 2 forks until shredded (removing and discarding any fat), cover and continue to cook on low until ready to serve. (I normally remove the meat from the crock pot and shred it on a cutting board then return it to the crock pot.) Serve on warm rolls or bread of your choice.
(I just put the roast in the crock pot, dumped the seasoning packets and water on top and then turned it on and it still came out wonderfully.)
Recipe adapted from Becca Kincheloe