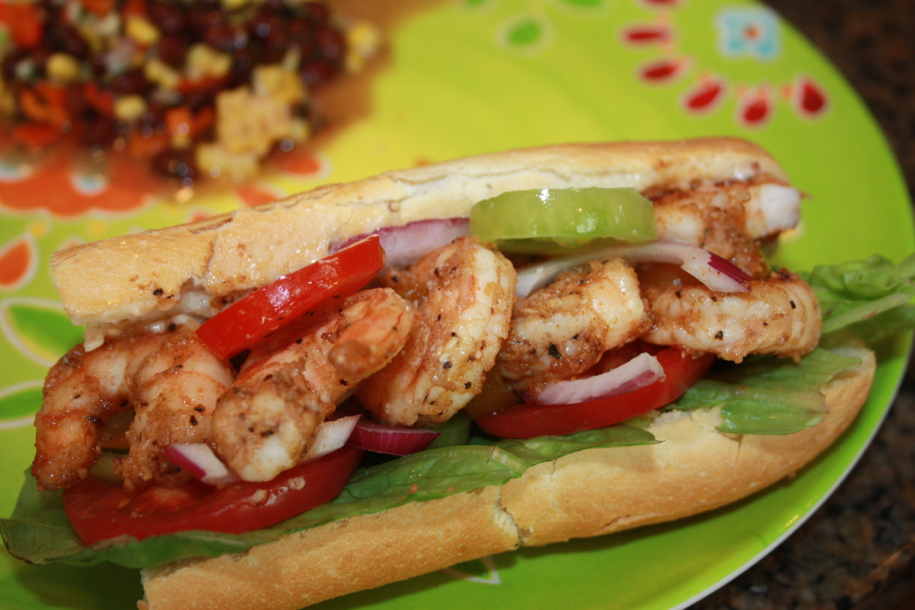 I love quick and easy meals in the summertime and will take advantage of the grill anytime I am able. A couple of weeks ago, Tyler was at church camp and we decided to take advantage of his absence and eat things that the rest of us love that Tyler doesn't. Shrimp is one of the items that isn't his favorite but something the rest of us enjoy. I had been thinking about making a po'boy sandwich and knew shrimp would be an excellent choice.
I had some french baguettes in the freezer from Costco that were just perfect for the bread. I threw together my own version of a remoulade sauce, sliced some heirloom tomatoes and supper was ready in a matter of minutes. That is one of the advantages of working with shrimp. It cooks in a matter of minutes.
Overall, the meal turned out great. I loved the sandwiches and am looking forward to my next one, but I will have to figure out a version of a gluten free po'boy that Tyler would enjoy. Any suggestions?
Spicy Shrimp Po'boys
ingredients:
For the remoulade sauce:
1/2 cup tarter sauce
2 tablespoons stone ground mustard
1 clove garlic, minced
1/4 teaspoon cayenne pepper
Dash of hot sauce
For the sandwiches:
1 lb. medium-large shrimp, peeled and deveined
1 tablespoon olive oil
2 tablespoons Cajun seasoning blend
1 large baguette or enough crusty bread for 4 sandwiches
lettuce, sliced tomato, and sliced red onion for serving
directions:
To make the remoulade sauce, combine all of the sauce ingredients in small bowl and stir or whisk to combine.
To prepare the sandwiches, combine the shrimp with the olive oil and cajun seasoning in a medium bowl. Toss well to coat the shrimp. Grill the shrimp using a grill basket on a preheated grill until opaque, it only takes a few minutes. (This could also be done inside using a grill pan heated to medium-high and grilling the shrimp about 2 minutes per side.
Slice the baguette into 4 servings, and cut horizontally to open the bread. Spread some of the remoulade sauce onto both pieces of the bread. Layer the bottom slice of bread with shrimp, then top with lettuce, tomato and sliced red onion as desired. Top with the remaining piece of bread and serve immediately.