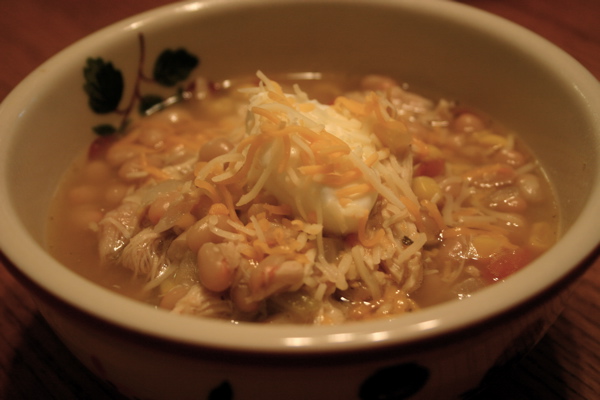 Chili and fall go hand in hand.  Chili is one of the things that I really look forward to about this time of the year.  The cool crisp mornings and evenings just call for a good pot of chili on the stove (or crock pot).  Today's recipe is one of my all time favorites.  I always look forward to the time when I can start making it.  This dish wasn't on my original plan to blog about this week, but yesterday I just couldn't contain myself anymore and I scratched whatever plan I had for supper and changed it to this chili.  As with most chili recipes, I think this chili gets better as it sits over night (the flavors continue to marry and it thickens) so I am looking forward to many more bowls over the weekend.
This recipe originally came from a dear sweet lady at the church I grew up at in Knoxville.  Whenever we would have a chili supper at Church, you could always count on her to bring this chili.  It became a favorite at those chili suppers and is still a favorite today at my house.  I have tweaked the recipe a bit from the original to add my own twist. I wouldn't be me if I didn't tweak!
This recipe is a great one to have all of the ingredients on hand for a last minute throw together.  It has saved me countless times because I have been able to pull chicken and stock out of the freezer and the remaining ingredients out of the cabinet to throw it together in no time.  I love to serve mine with tortilla chips crushed in the bottom, sour cream, and shredded cheese on top.  It is also delicious with Mexican cornbread (a future post).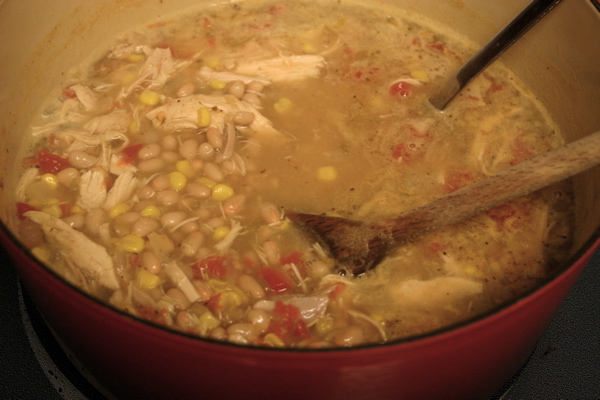 White Chili
Ingredients:
4 cans white beans (navy or great northern)
1 quart chicken broth
1/2 – 1 cup chopped onion
2 cloves garlic, minced
1 – 4 oz. can diced green chilies
1 teaspoon oregano
1 teaspoon ground cumin
1/2 teaspoon ground red pepper
1/2 teaspoon black pepper
4 cups cooked chicken, shredded
1 can Rotel
1 can white corn (you can also use frozen corn)
Directions:
Saute onions and garlic in 1/4 cup of chicken broth until the onions are soft and transparent. Stir in seasonings to combine with the onions then add remaining ingredients. Bring chili to a boil and then reduce heat and simmer to blend flavors.
This can also easily be made in a crock pot. Just saute your onions and garlic and then add everything to the crock pot to simmer.