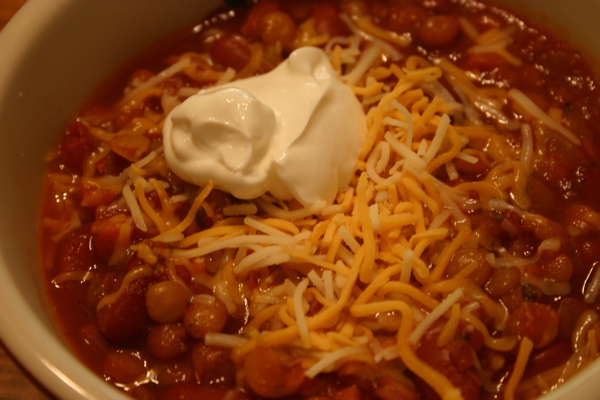 I really like experimenting with recipes. This summer, I had a sample at Costco of a lentil soup and I was surprised at how much I enjoyed it. The vegetarian soup was hearty and reminded me of chili. I normally do not like prepared foods, but this one really surprised me and I actually bought some because I thought it would make great chili dogs. Our whole family really enjoyed the soup so much so that I decided to try to recreate the chili.
This was my first attempt at recreating the recipe and I think it was pretty good. I will probably continue to adjust some of the seasonings and tweak it a little but I wanted to go ahead and share it with you. (I am actually sharing it now (before tweaking) because a friend has been waiting for months for this post.) Since this was my first time cooking with lentils and attempting a vegetarian chili, I would love your suggestions/ideas.
Lentil Chili
Ingredient:
1 tablespoon olive oil
1 medium onion, finely chopped
1 medium carrot, finely chopped
3 garlic cloves, minced
1 1/2 cups tiny green lentils
1 (28 oz.) can crushed tomatoes
2 tablespoons chili powder
1 teaspoon oregano
1 teaspoon brown sugar
1 teaspoon salt
1 1/2 teaspoons ground cumin
1 teaspoon dried thyme
1/4 teaspoon black pepper
3 cups water
1 can kidney beans, rinsed and drained
Directions:
In a large pot, heat oil over medium heat. Add the onion, carrot and garlic cooking until softened, about 7 minutes. Add the lentils and remaining ingredients except beans stirring until combined. Bring to a boil, then reduce heat to low. Cover and simmer until the lentils and vegetables are soft, about 50 minutes, adding more water as needed. Add beans and cook until heated through. Taste and adjust seasonings if necessary.
Serve hot with Fritos, sour cream, and cheese or your favorite chili toppings.  This chili is also makes a great topping for chili dogs.