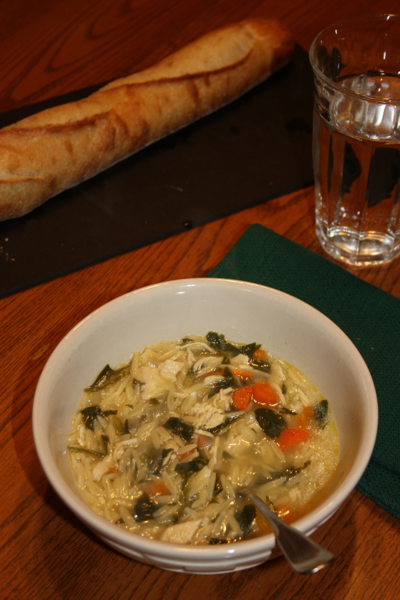 I have been under the weather the last couple of days which is why you didn't see anything new from me on Monday. I apologize. It is my intention to post each week on Monday, Wednesday, and Friday, but this sickness had me down for the count. I am normally not one who gets sick, but this was misery.
Tuesday, I finally gathered up some energy and found my way back to the kitchen. While I still am not back to 100%, at least I am off the couch. I have several new things to share with you that we made during Spring Break; however, they will have to wait.
While I was looking through blogs to see what I had missed while I had been sick, I came across this recipe. (This blogger had also been battling a bug.) I identified with her story about being ill and knew I had to try this recipe. I pulled myself together, mustered up all the energy I had and headed to the store for the few ingredients I didn't have in the pantry. It was well worth the energy spent when we sat down for supper and I tasted the first spoonful. I wasn't sure that the boys would like the soup but after one bite they both asked for big bowls. It was scrumptious.
This soup will be on my list whenever I need something good to boost my spirits sickness or not.
Lemon, Chicken & Orzo Soup
Printer Friendly Recipe
Ingredients:
2 teaspoons olive oil
2 medium carrots, peeled and diced
1 small celery stalk, diced
1 small onion, finely chopped
2 boneless, skinless chicken breasts
1 cup roughly chopped fresh spinach
1 teaspoon chopped fresh oregano
8 cups chicken broth
1 cup orzo
Zest and juice of a lemon
salt and pepper (to taste)
Directions:
In a large pot (4 quart or more), heat the olive oil over medium heat and add the carrot, celery and onion pieces. Cook for about 3 minutes, stirring occasionally until the vegetables have softened. Add the chicken breasts, spinach, oregano, and broth. Cover and bring to a boil. Reduce the heat to low and simmer, half covered for about 30 minutes or until the chicken is cooked through.
Remove the chicken breasts from the soup. Let cool enough to handle and shred it into pieces using two forks. Return the shredded chicken to the pot and add the orzo. Cook about 7 minutes more or until the orzo is al dente. Add the lemon juice, and lemon zest. Stir and add salt and pepper to taste. Serve with hot crusty bread.