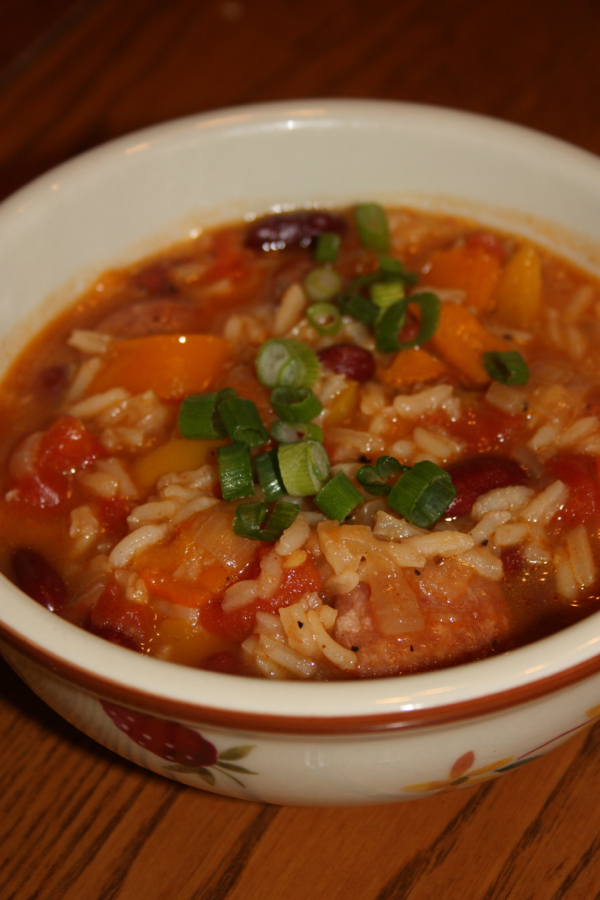 I don't know about you, but January normally means doing some cleaning around the house. I start cleaning out everything! My pantry and freezer are always on the list of things to inventory as well. We are getting ready to go on a ski trip so that only adds more reasons to eat from items we already have on hand. (I don't know about you, but I love to indulge on things when I am on vacation that I normally forgo.)
I found this recipe for a red beans and rice soup and knew I had to give it a try. I love cajun flavors and red beans and rice are always delicious in my book. The weather was exceptionally cold so I knew it was time. Soup was calling. I was pleasantly surprised when everything I needed for this recipe was either in my pantry or freezer. Perfect. While the soup was simmering it smelled amazing. When we took our first bite, the soup resembles a gumbo without the labor intensive preparation. I think it is a keeper. Not only were our tummies filled, my freezer was cleaned out in the process.
If you enjoy gumbo or red beans and rice, give this soup a try. The flavor is scrumptious and it is easy to throw together.
Kielbasa, Red Beans, and Rice Soup
Ingredients:
1 tablespoon canola oil
1 pound kielbasa, sliced
1 large onion, diced
2 bell peppers, diced (I prefer red and orange.)
1 tablespoon cajun seasoning
3 cloves garlic, minced
1 (14.5 oz)can fire-roasted diced tomatoes
1 quart chicken stock
1 bay leaf
1 (14.5 oz) can kidney beans, rinsed and drained
1/2 cup rice
green onions, for garnish
Directions:
Heat a large Dutch oven over medium-high heat and add the canola oil. Place the sausage in the pot and cook until browned. Remove the sausage from the pot and set aside.
Reduce the heat to medium, add the onion, bell peppers, and 1/2 tablespoon of the cajun seasoning. Cook, stirring frequently, until the vegetables are soft (5-7 minutes). Stir in the garlic and cook until fragrant, about 1 minute.
Add the diced tomatoes, chicken stock, bay leaf, remaining cajun seasoning, kidney beans, and browned sausage back to the pot. Stir. Bring to a boil.
Once the soup comes to a boil, add the rice turn the heat down to a simmer and cook until the rice is cooked, about 35-40 minutes. Garnish with sliced green onions when ready to serve.