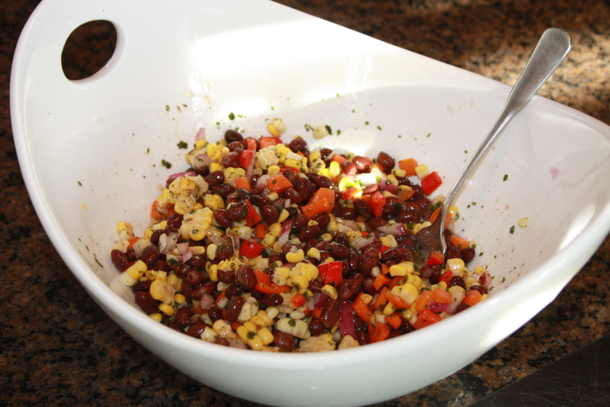 It seems like almost every season I find a recipe that I just fall in love with and of which just can't get enough. Last summer it was grilled vegetable pasta salad and this past spring it was cauliflower and chickpea tacos. While I still love those recipes, I'm ready to pronounce this recipe as my "recipe of the summer." I completely love it! I made it on a fluke trying to use up some leftover grilled corn. Boy was I ever glad that I did.
The salad is light and refreshing with just the right amount of sweetness. We served it with ribs, shrimp po boys and even with a cheese quesadilla. It was delicious with all three, but I could honestly just eat a bowl of it on its own and be completely satisfied. I also ate some with fresh avocado and then some without. It is delicious either way though I would just add the avocado when plated so you can save the salad in the fridge for the next day if you have leftovers. Day old avocado is not so appetizing.
Black Bean & Corn Salad with Chipotle-Honey Vinaigrette
ingredients:
For the Salad
3 ears fresh corn, grilled or cooked
1/2 cup chopped red onion
1 (14.5 oz) can black beans
1 red bell pepper, diced (about 1 cup)
1/4 – 1/2 cup loosely packed fresh chopped cilantro
For the Dressing
2 tablespoons red wine vinegar
2 tablespoons fresh lime juice, from 1-2 limes
2 tablespoons honey
1/4 cup plus 2 tablespoons vegetable oil
1 large garlic clove, roughly chopped
1/4 teaspoon dried oregano
3/4 teaspoon cumin
3/4 teaspoon salt
1/4 teaspoon black pepper
1/4 teaspoon chipotle chili powder
directions:
Holding the cooled corn over a medium or large bowl, cut the kernels of the cob in strips. Set aside.
Place the chopped red onions in a small bowl and cover with water. Let sit about ten minutes. (This takes some of the edge off of the onions.)
Rinse and drain the black beans and add them to the bowl with the corn. Drain the red onions and add them to the bowl as well. Add the bell pepper and cilantro.
To make the dressing:
Combine all of the ingredients in a small bowl or mason jar. Whisk or shake to combine and pour dressing over the salad and toss well. Cover and refrigerate for at least 1 hour or, preferably, overnight.