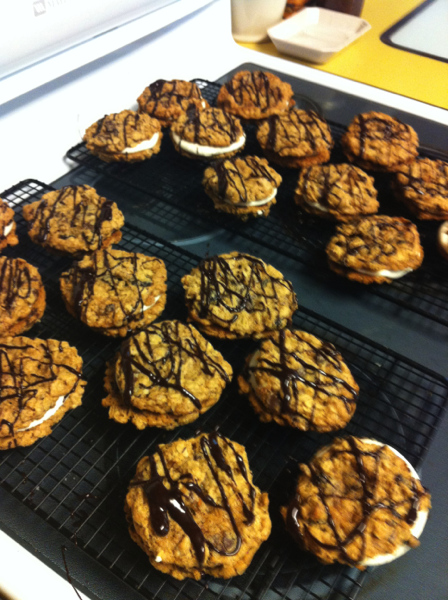 Yesterday, we celebrated Jeffrey at our house. He is an amazing husband and a great father to our children. He would much rather just have the day be like any other and not be in the spotlight but he deserves a day to be celebrated.
I had decided several weeks ago that this would be a fun dessert for Jeffrey on Father's Day. I was not mistaken. They were delicious and Jeffrey has renamed them a grown-up oatmeal cream pie but that did not keep William and Tyler from loving them. I think they actually liked them better then regular oatmeal cream pies and neither child complained that they had nuts or dried cherries in them.
At Jeffrey's request we had one of his favorites for lunch, homemade burritos and fresh salsa and then a rather leisurely day. Even our dogs were on their best behavior to show their papa how much they loved him.
Jazzed Up Oatmeal Cream Pies
ingredients:
For the cookies:
1 1/4 cups gluten free flour (or substitute all-purpose flour if not GF)
1/4 teaspoon xanthum gum (omit if not using gluten free flour)
3/4 teaspoon baking powder
1/2 teaspoon baking soda
1/2 teaspoon coarse salt
2 1/4 cups old-fashioned oats (gluten free)
1 cup dried tart cherries, chopped
1 cup pecans, chopped
4 oz. bittersweet chocolate, chopped
12 tablespoons unsalted butter, at room temperature
1 1/2 cups packed brown sugar
1 large egg
2 teaspoons vanilla extract
For the filling:
12 tablespoons unsalted butter, at room temperature
1 1/2 cups confectioners' sugar
6 oz. marshmallow fluff
1 tablespoon vanilla extract
1/2-1 tablespoon milk (if needed to thin out filling)
For the drizzle:
4 oz. bittersweet chocolate, finely chopped
2 tablespoons half and half
directions:
Preheat the oven to 325˚ F. Line baking sheets with silicone baking mats or parchment paper. Combine the flour, xanthum gum, baking powder, baking soda, and salt in a medium bowl. Whisk to blend, and set aside. In a large bowl, combine the oats, cherries, pecans, and chocolate. In the bowl of an electric mixer, beat together the butter and sugar on medium-high speed until light and fluffy, about 2 minutes. Blend in the egg and vanilla. With the mixer on low speed, add in the flour mixture, beating just until incorporated. Fold in the oat mixture with a spatula until incorporated.
Use a medium sized dough scoop to shape dough balls. Place the dough balls on the prepared baking sheets, spacing each 2-3 inches apart. Bake for 16-18 minutes total, rotating the pans halfway through baking. Transfer to a wire rack and let cool completely.
To make the filling, place the butter in the bowl of a mixer fitted with the paddle attachment. Beat on medium-high speed until smooth, 1-2 minutes. Blend in the confectioners' sugar until incorporated. Beat in the marshmallow fluff and vanilla until light and fluffy, 2-3 minutes. If necessary, blend in milk gradually until a soft, smooth consistency is reached.
Match the cookies up in pairs by size. Fill a pastry bag fitted with a large plain round tip with the marshmallow filling. Pipe a dollop of filling onto the flat side of one cookie of each pair, and sandwich the cookies together, pushing the filling to the edges.
To make the ganache, place the chopped chocolate and half and half in a small bowl. Microwave on high for 30 seconds. Stir. If the chocolate is not completely melted microwave for an additional 30 seconds. Stir again until the mixture is smooth. Drizzle over the assembled cookies. Chill to set the ganache. Store in an airtight container.