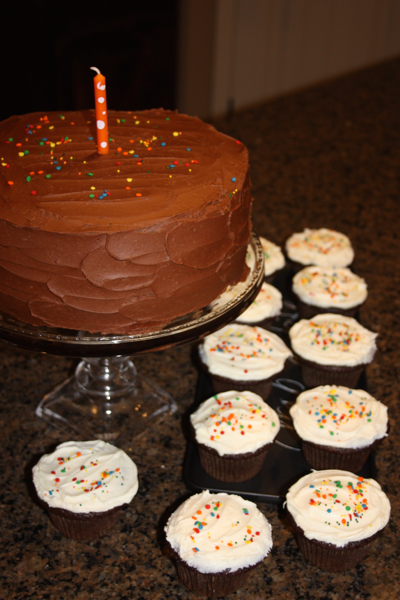 Yesterday was National Chocolate Cake Day. Who knew? Certainly not me, but I did have chocolate cake. Monday was Jeffrey's birthday and I decided to make a chocolate cake with mocha frosting for the occasion. I also baked some gluten free chocolate cupcakes which I can't wait to share with you. It was hands down the best gluten free cupcake I think I have ever tasted. I will save those for another day.
This chocolate cake was introduced to us by a family member when they came to visit us last summer. It is a fantastic cake and I have wanted another slice ever since I had it last summer. I knew that Jeffrey's birthday was a great occasion for making the cake again.
I knew that we didn't need to eat the entire cake. I also knew that Jeffrey's co-workers would enjoy the leftovers. Instead of having lots of cake in my refrigerator to tempt me while it lasted, it was easier and better to share with others. I think all of Jeffrey's co-workers agreed. Evidently this is a fabulous cake (several asked for the recipe).  The cake even led to the coining of a new term: "Jefftovers." I'm guessing now that at least some of my husband's popularity at work is due to sharing and that probably isn't a bad thing.
Chocolate Cake with Mocha Frosting
ingredients:
for the cake:
Butter, for greasing the pans
1 3/4 cups all-purpose flour, plus more for pans
2 cups sugar
3/4 cups cocoa powder
2 teaspoons baking soda
1 teaspoon baking powder
1 teaspoon kosher salt
1 cup buttermilk
1/2 cup canola or vegetable oil
2 eggs, at room temperature
1 teaspoon vanilla extract
1 cup freshly brewed hot coffee
for the frosting:
6 ounces good quality bittersweet or semisweet chocolate
1/2 pound (2 sticks) unsalted butter, at room temperature
1 egg yolk, at room temperature
1 teaspoon pure vanilla extract
1 1/4 cups sifted confectioners' sugar
1 tablespoon instant espresso powder
directions:
Preheat the oven to 350 degrees F. Butter and flour two 8-inch x 2-inch round cake pans.
Sift the flour, sugar, cocoa, baking soda, baking powder, and salt into the bowl of an electric mixer fitted with a paddle attachment and mix on low speed until combined. In another bowl, combine the buttermilk, oil, eggs, and vanilla. With the mixer on low speed, slowly add the wet ingredients to the dry. With mixer still on low, add the coffee and stir just to combine, scraping the bottom of the bowl with a rubber spatula. Pour the batter into the prepared pans and bake for 35 to 40 minutes, until a cake tester comes out clean. Cool in the pans for 30 minutes, then turn them out onto a cooling rack and cool completely.
When the cake has cooled completely make the frosting.
Chop the chocolate and place it in a heat-proof bowl microwave for 30 second intervals stirring after each 30 seconds until just melted. Set aside and let cool to room temperature.
In the bowl of an electric mixer fitted with a paddle attachment, beat the butter on medium-high speed until light yellow and fluffy, about 3 minutes. Add the egg yolk and vanilla and continue beating for 3 minutes. Turn the mixer to low, gradually add the confectioners' sugar, then beat at medium speed, scraping down the bowl as necessary, until smooth and creamy. Dissolve the espresso powder in 2 teaspoons of the hot tap water. On low speed, add the chocolate and coffee to the butter mixture and mix until blended scrape down as necessary but be careful not to whip the frosting. Spread immediately on the cooled cake.
Place 1 layer, flat side up, on a flat plate or cake pedestal. With a knife or offset spatula, spread the top with frosting. Place the second layer on top, rounded side up, and spread the frosting evenly on the top and sides of the cake.
Refrigerate cake if serving the next day but be sure to let it come to room temperature before serving.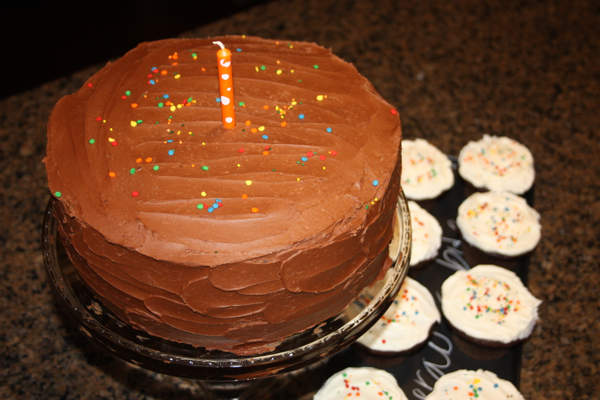 Adapted from Ina Garten.