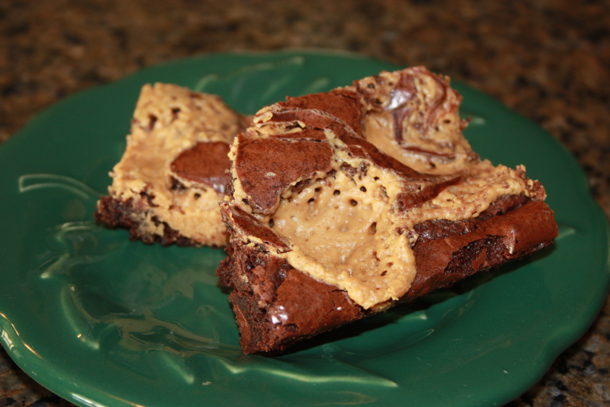 I am one of the people who love the combination of peanut butter and chocolate. In fact, it is probably one of my favorite flavor combinations. Given that, when I saw this recipe I knew I had to give it a try. The brownies were fantastic!
I was a bit surprised when I had people who are not normally chocolate peanut butter fans give these brownies a thumbs up. The brownies are really easy to throw together so they are great for a last minute dessert. I usually have a couple of brownie mixes on hand so that makes these even easier to make. *By using a gluten free brownie mix or brownie recipe these will be gluten free because the peanut butter mixture is already gluten free.
I think these would make a fabulous addition to your 4th of July festivities even if your festivities are hanging out at home with your family. I know my kids wouldn't complain if I added these to our menu.
Peanut Butter Swirl Brownies
ingredients:
For Brownie Base:
Use your favorite basic brownie recipe or a box of brownie mix according to package directions.
For Peanut Butter Swirl:
3 tablespoons unsalted butter, melted
1/2 cup smooth peanut butter
1/3 cup confectioners' sugar
1/4 teaspoon salt
1/2 teaspoon vanilla extract
directions:
Preheat oven to 350 degrees F. Spray an 8-by-8-inch square baking pan with non-stick cooking spray.
Put together your basic brownie mix according to directions and spread batter into prepared baking pan. Set aside.
For the peanut butter swirl, combine peanut butter, butter, and vanilla in a bowl and stir until smooth. Add the confectioner's sugar and salt and stir until smooth. Drop dollops of peanut butter filling on top of brownie batter. Use a butter knife to gently swirl the peanut butter into the batter. Since the peanut butter mixture is quite thick this won't be perfect, just run your knife through it a few times and let it be.
Bake for 35 to 40 minutes, or until a toothpick inserted into the center comes out clean. Transfer to a wire rack to cool to room temperature. These can be made the night before and left at room temperature.
Adapted from Love & Olive Oil