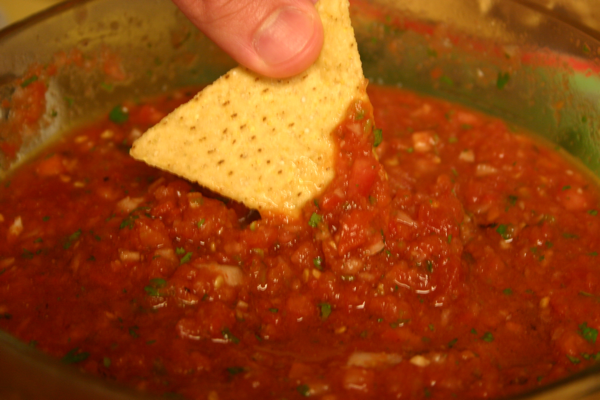 Dinah is feeling a bit under the weather, so I am writing about something she created and prepared this weekend.  –Jeffrey
I have, like most of the people reading this post, lived most of my life eating prepared salsa that was purchased at the grocery store. When Dinah asked me on Saturday if I would like it if she made salsa, I told her that was a great idea. After being married for almost 13 years, I've learned that if she wants to experiment with food I should definitely let her follow her inner food muse. On Saturday my faith in Dinah was rewarded in a big way with the salsa she made. It was amazing!
I do have one problem though. I have to figure out how to keep her making the stuff because it was so much better than anything we have ever purchased. I'm having a hard time figuring out how I'm going to eat the other stuff anymore.  There is something about the freshness of this salsa that made my taste buds stand up and take notice.
Ladies, if you need to get your husbands to do some work for you or fellows, if you are looking to spice up things at your house, I recommend you take the few minutes to recreate this deliciousness. If you have tried to make salsa before and didn't like the results, try this recipe out. It is the perfect snack and maybe if I'm extra good, maybe Dinah will keep making it all summer long!
Fresh Salsa
Yield: about 2 quarts
Printer Friendly Recipe
Ingredients:
2 fresh jalapeno peppers, seeded and very coarsely chopped
4 cloves garlic, halved
2 large vine-ripened tomatoes
1 (14 0z.) can no salt added diced tomatoes (drained or not, depending on how much liquid you want in your salsa I drained mine)
1 (14 oz.) can fire roasted crushed tomatoes
2 tbsp. red wine vinegar
1 tbsp. cumin
1/2 sweet yellow onion, coarsely chopped
1/4 tsp. salt
1/2 tsp. ground cayenne pepper
1/4 cup fresh cilantro
juice of one lime
Directions:
In your food processor's bowl, process the jalapeno peppers and garlic until it is finely chopped. Scrape the sides of the bowl down. Add all other ingredients except the crushed tomatoes. Using the pulse button, pulse the food processor using brief pulses until the veggies are almost the size you desire. Add the crushed tomatoes and pulse a couple more times to combine (be careful with the food processor, you want salsa, not a puree). Transfer your salsa to an airtight container and refrigerate for at least 2 hours before serving.