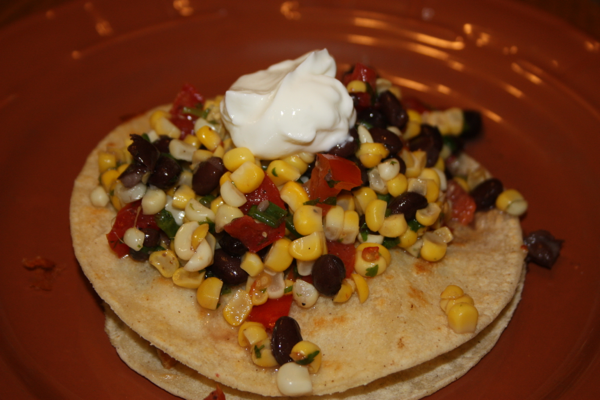 I know its been quiet over here for the last little bit and I apologize. The last couple of weeks have been crazy at our house. I know I have started many posts with this same sentence, but we have reached new and exciting levels of craziness at our house so I had to say it again. We decided to put our house on the market. Crazy!!!! I am hoping for a bigger kitchen in my next house so I can do more cooking and baking though for the past week or so cooking and baking has been replaced by painting, staining and cleaning. I can finally say our house is ready. What a relief. There is a sign in the front yard and hopefully we will have a buyer soon.
I am honestly not sure what this will do to my kitchen time in the next couple of weeks so please bear with me. I promise good things are to come. Remember that awesome new kitchen I am counting on.
Until we see what the future holds, here is an awesome corn salsa. It is perfect for the late summer harvest. (Thanks to friends and neighbors I have had plenty of produce.) I actually made this salsa for a fajita party we had on labor day and it was awesome a few days later on some quesadillas. I hope you enjoy it as much as we did.
Fresh Corn Salsa
ingredients:
1 can black beans, rinsed and drained
2-4 ears sweet corn, cooked and kernels removed from cob
3 green onions, sliced
2 cloves garlic, minced
2 large tomatoes, seeded and chopped
1-2 jalapeños, seeds removed and diced
1/3 cup chopped cilantro
juice of 1 lime
salt and pepper, to taste
directions:
In a large bowl combine all ingredients. Stir and season with salt and pepper adjusting any ingredient to your taste. Serve with tortilla chips or on top of freshly made quesadillas.