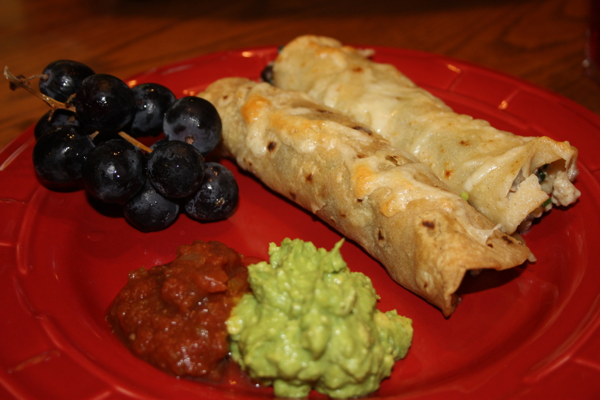 I have mentioned before how much I enjoy Giada De Laurentiis and her style of cooking. It came as no surprise to Jeffrey when I first saw this recipe that it was quickly added to our list of items to try immediately. We already love most Mexican inspired foods and this twist she put on it was superb. She includes mascarpone cheese in her mixture. While at first I thought this seemed odd, I knew I had to try it because rarely have I been disappointed with any of her recipes.
The verdict was that we loved them! The boys didn't even seem to care that spinach was mixed in to the filling. The recipe made 18 pretty good sized taquitos so we had several left-over. I had one straight from the fridge for lunch one day as I was heading out the door. Later in the week, I did take the time to reheat a few in the microwave and enjoyed them as well. Overall, a great recipe. They are easy to make, gluten-free, and taste delicious. This recipe is a new favorite in my book.
Turkey and Black Bean Taquitos
Printer Friendly Recipe
Ingredients:
3 tablespoons extra-virgin olive oil
1 large onion, minced
1 tablespoon kosher salt
1/4 teaspoon freshly ground black pepper
1 pound ground turkey
1 tablespoon ground cumin
2 packed cups baby spinach leaves, chopped
1 can black beans, rinsed and drained
1 cup mascarpone, at room temperature (8 ounces)
Eighteen 6 1/2-inch-diameter corn tortillas
additional extra-virgin olive oil (for brushing tortillas)
1 cup shredded white or extra sharp Cheddar (4 ounces)
Serving suggestion: salsa or guacamole
Directions:
Place an oven rack in the center of the oven and preheat to 400 degrees F. Spray a heavy nonstick baking sheet with cooking spray.
For the filling: Heat the olive oil over medium-high heat in a large skillet. Cook the onions, salt and pepper, stirring frequently, until soft, about 6 minutes. Add the turkey and cumin. Cook until the turkey is cooked through, about 5 minutes. Add the spinach and cook until wilted, about 2 minutes. Remove the skillet from the heat and add the beans. Mash the beans until smooth, using a fork. Stir in the mascarpone.
Place a nonstick skillet over medium-high heat. Brush each side of the tortillas with olive oil. Cook the tortillas in batches until warm, about 30 seconds. Spoon about 1/4 cup of the filling into each tortilla and roll up into a cigar shape. Place the tortillas, seam-side-down, on the baking sheet and sprinkle with Cheddar. Bake until the Cheddar is melted and the tortillas are crisp and golden, 25 to 30 minutes. Cool for 5 minutes and serve with salsa and guacamole.