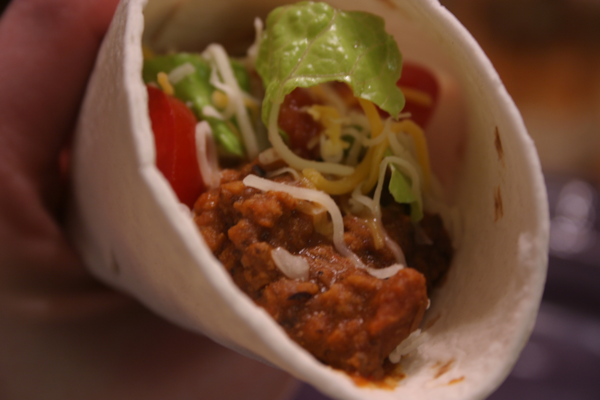 If you are looking for an easy recipe today, search no farther this recipe is definitely it. I have been in the kitchen all day baking carrot cakes (nine batches of carrot cake and counting) and cupcakes and had not planned accordingly for dinner. When Jeffrey came home early from the office because of snow, I informed him (on my way out the door for a school activity) that he better think or something or we were ordering pizza. He knew I was tired. I am not one to give up easily and resort to takeout or ordering pizza. When I returned home, he had ground beef defrosting (we always keep our freezer well stocked), and he told me he thought burritos would be a good choice.
I thought that these sounded great.  Not only did it provide something to eat, but it also provided today's post! I had reinforcements coming to help me continue my baking marathon, so I invited her and her husband to stay for dinner. Fortunately, these burritos come together very easily. We had dinner on the table in no time and I didn't have to feel bad about ordering takeout.
Beef and Bean Burritos
Ingredients:
1 pound ground beef
1 teaspoon cumin
1 tablespoon chili powder
1 teaspoon oregano
1/4 teaspoon ground pepper
2 cloves garlic, minced
1/4 cup water
1 can refried beans
1 small can tomato paste
Directions:
In a large skillet, brown ground beef. Drain off the grease and return to pan (I even wipe my pan out with a paper towel to remove as much grease as possible). Add cumin, chili powder, oregano, pepper, garlic, and water to the beef stirring until the seasoning has coated the meat well. (You can substitute a taco seasoning packet if you prefer.) Add the refried beans and tomato paste (you may not want to use the entire can I sometimes save a tablespoon or two for future recipes). Stir until the mixture is combined well and the beans are heated through. Serve on warm flour tortillas with toppings of your choice. Our favorite toppings are: shredded lettuce, tomatoes, cheese, sour cream, and salsa.