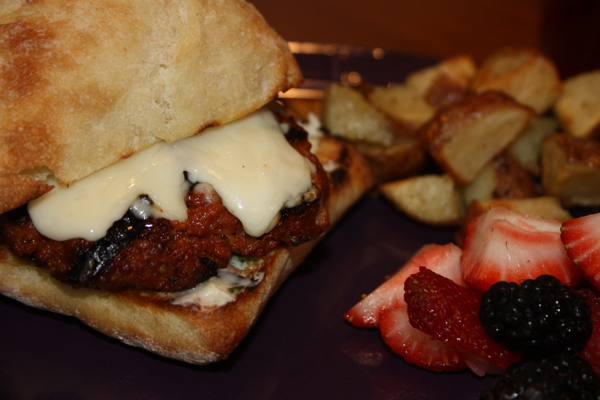 It should come as no surprise to you that I love burgers. There is almost nothing better than grilling burgers on a beautiful evening. I love traditional burger such as these Sliders which is my standard go to recipe for burgers on the grill, but I also like some variety. I have shared Barbecue Chicken Burgers and Salmon Burgers for non-traditional burgers and today I have another burger recipe to add to the non-traditional group.
We made these "pizza inspired" burgers this week and they were an instant hit. The flavor was phenomenal. I was a little concerned at first that this would be too sophisticated for my boys, but both of them loved the burger. (The didn't care for the mascarpone spread but that just meant more for Jeffrey and myself.)
One of my favorite things about these burgers was the fact that I didn't have to have a lot of toppings for these. All of the toppings are inside! I think these will be great for entertaining because once you have your patties put together all you have to do is worry about a couple of sides instead of prepping a bunch of toppings for your burger. I hope you give these a try, especially if you are a fan of both pizza and burgers because with this recipe I think you get the best of both worlds.
Burgers à la pizzaiola
Printer Friendly Recipe
Ingredients:
Burgers:
3 garlic cloves, peeled and smashed
5 sun-dried tomatoes in oil, dried
1/3 cup fresh basil leaves (packed)
3 tablespoons grated Parmesan
2 cups shredded mozzarella, divided
1 tablespoon tomato paste
1/2 teaspoon crushed red pepper flakes
1 1/4 teaspoons kosher salt
1/2 teaspoon freshly ground black pepper
1 1/2 lb. ground beef (you don't want your beef too lean or it won't bind together properly)
Your choice of ciabatta bread, sourdough bread or foccacia, for use as a bun (I used ciabatta rolls.)
2 tablespoons olive oil
Spread:
1 cup mascarpone cheese, at room temperature
1/3 cup chopped basil
3/4 teaspoon kosher salt
3/4 teaspoon freshly ground black pepper
Directions:
Burgers:
In a food processor, pulse together garlic, sun-dried tomatoes, basil, parmesan, 3/4 cup mozzarella, tomato paste, pepper flakes, salt, and black pepper until well blended. Combined the beef and the sun-dried tomato mixture in a large bowl and stir or mix with your hands until combined.  Form beef into six patties that are about 1/2 inch thick.
Grill your burgers on a preheated grill until the juices run clear.  Evenly top patties with the remaining mozzarella and cook until the cheese is melted. Remove the burgers from your grill and let them rest for five minutes.
Brush your bread with olive oil and grill until lightly toasted (one to two minutes).
Spread:
In a medium bowl, combine all your ingredients and stir until smooth.
To assemble burgers: Place burger on one piece of grilled bread and top the remaining slice of bread slathered with the mascarpone spread.
Adapted from Weeknights with Giada