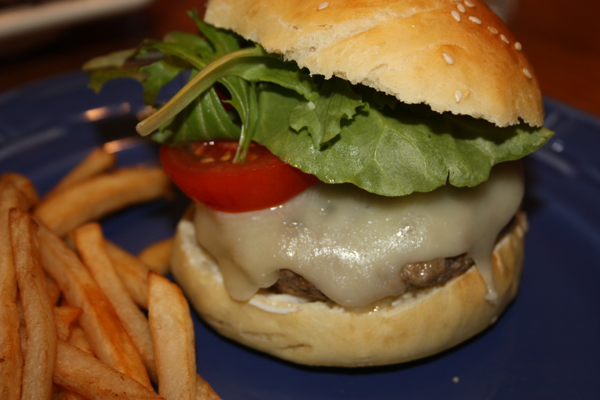 I have to confess I am a sucker for a good hamburger. It is quite possibly one of my favorite things. There are just times that I get a hankering for a good burger and Monday night was one of those nights.
I usually prefer to grill the burgers/sliders, but for Christmas Jeffrey and I received a panini press and I thought I would give it a try. We had no problem cooking the sliders on the panini press and they were quite tasty though I did miss the smokiness that comes from the grill. Oh well, it is a nice winter alternative to grilling and I got my burger fix. 🙂 If you are feeling adventurous give this recipe for buns a try. They are so yummy and I honestly prefer the homemade bun especially if I have the time to make them.
I also need to give a shout out to my daddy because he gave me a 1/2 cow for Christmas and I can honestly say that the beef I used is awesome! Thanks Daddy!
Sliders
Printer Friendly Recipe
Ingredients:
2 pounds ground beef
1 tablespoon Dijon mustard
3 tablespoons olive oil
1/2 teaspoon thyme
2-3 cloves garlic, minced
1 teaspoon kosher salt
1 teaspoon black pepper
slices of your favorite cheese
12 small Brioche buns
mixed greens or lettuce of your choice
tomato slices
Ketchup, mayonnaise, and mustard, for serving
Directions:
Heat a grill, grill pan, or panini press.
Place the ground beef in a large bowl and add the dijon mustard, olive oil, thyme, garlic, salt, and pepper. Mix gently with a fork to combine. Shape the meat into 12 (2-inch) patties of equal size and thickness.
When the grill is medium-hot, brush the grill grate with oil to keep the sliders from sticking. Place the sliders on the grill and cook for 4 minutes. Turn the sliders over with a spatula and cook for another 4 to 6 minutes, or until your desired degree of doneness. Place cheese slices on sliders, remove from the grill and cover loosely with foil. The carry over heat will melt the cheese.
Slice the buns in half crosswise top with condiments of your choice, slider and toppings of choice. Cover the top with the top half of the bun and enjoy!
Adapted from Ina Garten