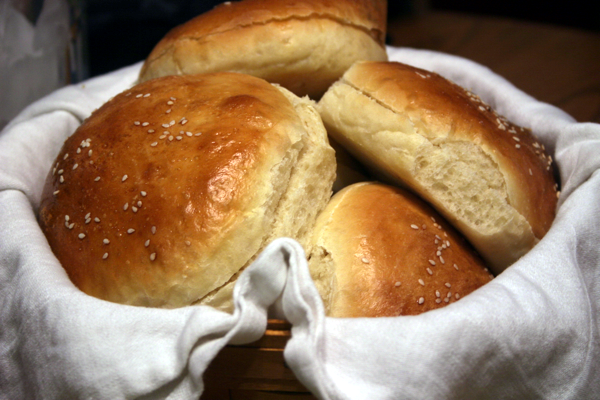 I know you are thinking that Dinah must have lost her mind…you can buy hamburger buns at the store.  Before you declare me crazy, let me tell you these buns are phenomenal! This weekend Jeffrey's parents came for a visit so we had lots of things on the schedule.  We enjoyed a play, visited with our boxer rescue friends and had the whole family together a few times. During their visit,  I tried several new recipes and I don't think we were disappointed by any of them.  A few of the recipes need tweaking and aren't "blog ready."  Overall I think it was a good weekend of trying new recipes. I want to thank my family for being my guinea pigs.
I have to say that no one complained about these scrumptious buns. Well maybe I did hear a couple of complaints that there weren't enough for seconds, but that isn't the worst complaint a cook can hear. They really were easy to make and I know I will be incorporating these into our regular routine.
If you have not worked with yeast breads before, hear me:  do not be afraid! Take courage! You can do it! Homemade bread is one of my favorite things, and you feel so good about feeding your family bread that you know exactly what is in it.
So in case some of my vegetarian friends or sometimes vegetarian friends are wondering about meatless Monday…it has not gone away. I am really disappointed because I have a couple of good meatless recipes that we made. Unfortunately in the hilarity of the weekend, my pictures were not up to my standards so I will have to remake them and retake some pictures. Sometimes being a perfectionist is such a pain.
In case you were wondering, the filling of our buns was a black bean burger. While I will change the recipe a bit next time by adding a chipotle pepper, it definitely was a good starting point. Although you didn't feel like you were biting into a juicy beef burger, I didn't leave the table disappointed or unsatisfied.  (Trust me that I really love burgers!)  Hopefully, I can get a good picture with my leftovers and post the recipe soon, but for now here is a delicious recipe for buns regardless of what you put between them.
Brioche Hamburger Buns
Printer Friendly Recipe
Ingredients:
3 tablespoons warm milk
1 cup warm water
2 teaspoons yeast
2½ tablespoons sugar
1½ teaspoons salt
1 large egg
3 cups bread flour
1/3 cup all-purpose flour
2½ tablespoons unsalted butter, softened
For topping:
1 large egg beaten with 1 tbsp. water, for egg wash
Sesame seeds
Directions:
In the bowl of a stand mixer fitted with the paddle attachment, combine the milk, water, yeast, sugar, salt and egg. Mix briefly to combine. Switch to the dough hook. Add both kinds of flour to the bowl, and mix until incorporated, kneading on low speed for about 6 minutes (until the dough forms a ball and pulls away from the sides of the bowl. Add the butter and mix until incorporated. The dough will be somewhat tacky, but you want to avoid adding too much extra flour which will create tough buns.
Transfer the dough to a large bowl sprayed with nonstick cooking spray. Cover with plastic wrap and let rise in a warm place until doubled in size, 1-2 hours.
Line a baking sheet with parchment paper or a silicone baking mat. Using a dough scraper, divide the dough into 8 equal parts. Gently roll each portion of dough into a ball and place on the baking sheet, 2-3 inches apart. (I was able to fit all 8 on a large sheet pan with three on each side and two spaced in the center.) Cover loosely with lightly oiled plastic wrap and let rise again, 1-2 hours, until puffed up and nearly doubled.
Set a large metal pan of water on the lowest rack of the oven. Preheat the oven to 400˚ F. Brush the tops of the buns lightly with the egg wash and sprinkle with sesame seeds. Bake the buns on the center rack of the oven (above the metal pan of water) about 15 minutes rotating halfway through baking, until the tops are golden brown. Transfer to a rack to cool completely.