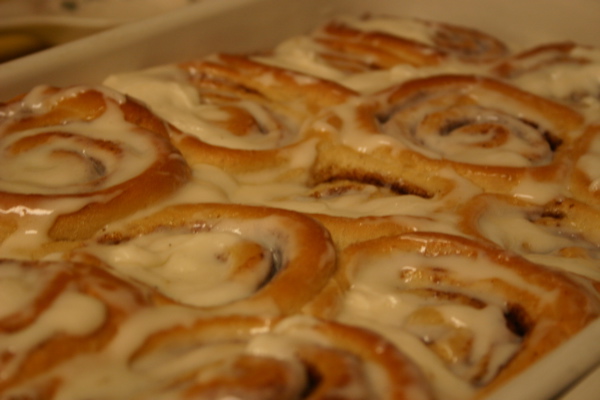 We love cinnamon rolls at our house. They are a frequently requested item, but we don't eat them very often. I have catered several breakfasts over the last two weeks and my clients requested them. The first time I made them, my boys were very excited to find out that I had made them extra rolls to enjoy. This morning, I made cinnamon rolls again for a client; however, since the boys had cinnamon rolls last week I didn't make any extra. Bad idea! I had a call (while I was catering) from William. He asked in the most pitiful voice, "what is the deal mom? I woke up and smelled cinnamon rolls, but when I came downstairs there were none." He was not pleased. I told him I would bring him one if I had extra–I also told him that I didn't make them for home since we  had some last week. (What a bad mom.)
After hanging up with William, I went back in to check on the food for the catered breakfast.  A gentleman jumped up and ran over to the table where the food was.  I suppose he was thinking that I was about to take the food away. He asked, "Did you make the rolls?"   I replied that I had baked them.   He than proceeded to ask if I would marry him. I just laughed and said no thank you, I am happily married, but I am glad you enjoyed the cinnamon rolls.
Over the years, I have tried several recipes for cinnamon rolls–this one is my favorite for the time being. It came from Cooking Light. I honestly don't know how they lightened the recipe because I haven't compared it to my other recipes. All that I know is that it is a solid recipe. I also like that when I make this recipe it makes a good amount of rolls. I have made two 9X9's with a total of 18 rolls or I can cut them slightly larger and fill a 9X13 with 15 rolls. It is just about perfect for our family with company or a small pan for us and one to go to a friend.
I can't guarantee that you will get a marriage proposal from these. I do guarantee that whoever eats them will not be disappointed.
Cinnamon Rolls
Rolls:
1 cup warm milk (100° to 110°:)
6 tablespoons melted butter, divided
1/3 cup granulated sugar, divided
2 1/4 teaspoons yeast (1 package)
3 3/4 cups flour
1 large egg
1/4 teaspoon salt
cooking spray
2/3 cup packed brown sugar
1 1/2 tablespoons ground cinnamon
Icing:
3 tablespoons butter, softened
2 tablespoons heavy cream (you can use half and half as well)
1.2 teaspoon vanilla extract
1 cup powdered sugar
Combine milk, 3 tablespoons melted butter, 1 tablespoon granulated sugar, and yeast in a large bowl; let stand for 5 minutes to let your yeast activate. Add egg, remaining sugar, and 1 cup of flour. Stir together and then let stand for 10 minutes.
Add 2 1/2 cups flour and salt to yeast mixture, stirring until a soft dough forms. (It will be sticky.) Turn it out onto a lightly floured surface. Flour your hands with some of the remaining flour and knead until smooth and elastic (about 6 minutes) adding remaining flour 1 tablespoon at a time as needed to prevent sticking. Place dough in a large bowl coated with cooking spray. Turn dough ball over to coat top. Cover and let rise in a warm place for 35 minutes or until doubled in size. (You may need to let it rise a total of 1 hour to double in size.) Once doubled in size punch dough down; cover and let rest 5 minutes.
Combine brown sugar and cinnamon in a small bowl. Turn dough out onto a lightly floured surface. Roll dough into a 18X10-inch rectangle. Brush with the reserved 3 tablespoons of butter. Sprinkle evenly with brown sugar mixture. Beginning at one of the long sides, roll up dough (like a jelly roll). Cut dough into 15 or 18 slices. Arrange cut side up in baking dish or dishes sprayed with cooking spray. Cover and let rise 35 minutes or until doubled in size if baking immediately or  refrigerate overnight to rise for morning baking.
Preheat oven to 350°
Uncover rolls. Bake at 350 degrees for 15-22 minutes or until lightly browned. (I like them just barely browned.)  Let sit for 5 minutes then top with icing.
To make icing, combine 3 tablespoons softened butter and cream using a hand mixer or whisk. Stir in vanilla. Add powdered sugar and mix until well blended. Spread icing over rolls. (I find it easier to distribute a dollop of icing on each roll and then go back to spread after the rolls have softened the icing a bit.)
Enjoy! You earned it.
Adapted from Cooking Light.