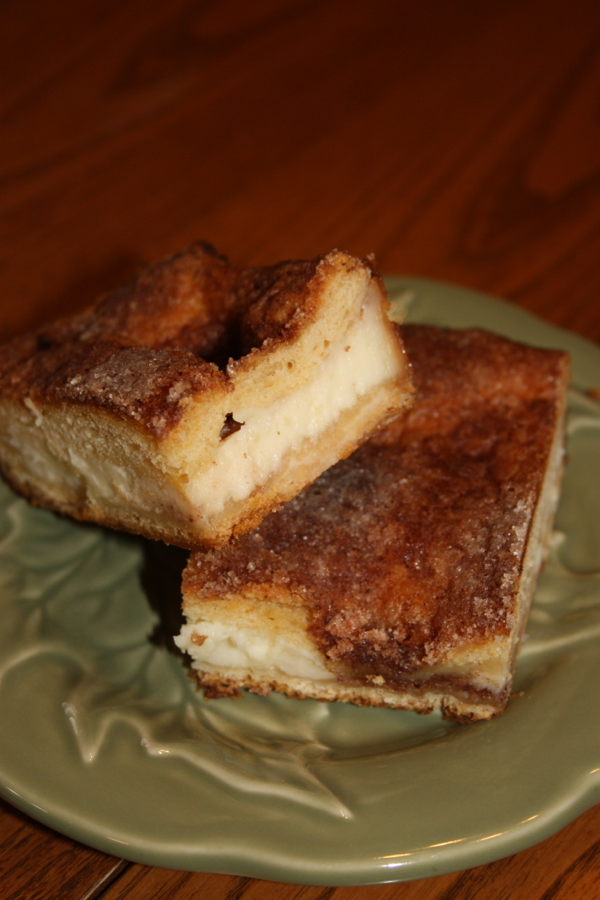 I first had this dessert several years ago and fell in love with it. Although I loved it, I never made it until now. It is very indulgent and I knew if I made it for our family I would have a hard time eating it in moderation.
I thought it would be a great dessert for a recent lunch that I catered. I was right. Everyone loved it and an added bonus was the fact that there was an extra piece that I was able to enjoy.
If you are looking for a super easy and delicious dessert, look no further. If you are looking for a light dessert option, keep looking. My advice is find an event you need to take a dessert to, make this, enjoy a piece and make sure there are absolutely no leftovers before heading home. 🙂
Sopapilla Cheesecake Bars
Ingredients:
16 ounces cream cheese, softened
2 cans refrigerated crescent rolls
1 cup sugar
1 teaspoon vanilla
1/2 cup butter, melted
3/4 cup sugar
2 teaspoons cinnamon
Directions:
Preheat oven to 350 degrees.
Spray a 9×13 pan with non-stick cooking spray. Line the bottom of the pan with one of the cans of crescent rolls. Pressing them to seal any of the seams.
In a medium sized bowl combine the cream cheese, 1 cup of sugar, and vanilla beating until smooth. Spread the cream cheese mixture over the bottom layer of crescent rolls. Unroll the other can of crescent rolls and top the cream cheese mixture.
Pour the melted butter over the top layer of crescent rolls. Combine the 3/4 cup of sugar with the cinnamon. Sprinkle the cinnamon sugar mixture over the butter topped crescent rolls.
Bake for 30-35 minutes. Let cool and then refrigerate over night. When ready to serve remove from the refrigerator and cut into squares.
Adapted from Pilsbury
Pour