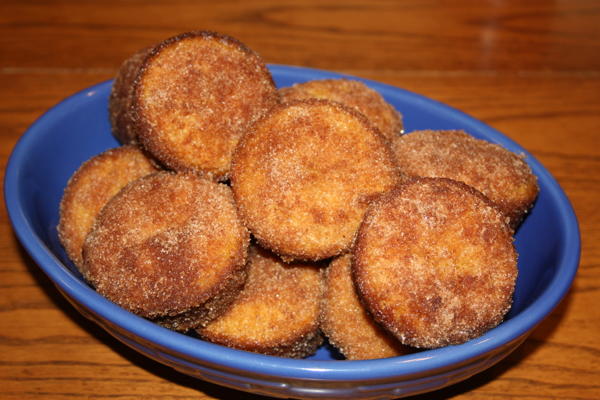 The other morning one of my friend's sent me a text to see if I was home. I texted back and said yes, I had just gotten back from walking the dogs. A few minutes later she was at my front door with a muffin. I had just poured my coffee so it was perfect timing. She didn't have time to stay and chat so I ate my muffin alone, but after the first bite quickly sent her a text saying it was delicious. A little while later she sent me a text saying I should have tried them hot out of the oven.
I decided to head her advice and made a gluten free batch on Saturday for breakfast. They were quite delicious and everyone loved them. They remind me of cake donuts covered in cinnamon sugar and since we have yet to find gluten free donuts they make an excellent substitute.
I already have plans of making a version with pumpkin in the batter to try and make a good substitute for my favorite donut of fall "pumpkin spice cake donuts." I will keep you posted on my progress.
Cinnamon Toast Muffins
Printer Friendly Recipe
Ingredients:
1/3 cup butter, melted
1/2 cup sugar
1 egg
1 1/2 cup Pamela's Baking Mix (or all purpose flour)
1 1/2 teaspoon baking powder
1/2 teaspoon salt
1/4 teaspoon nutmeg
1/2 cup milk
Topping
1/2 cup sugar
1/2 cup butter, melted
2 teaspoons cinnamon
Directions:
Preheat oven to 350F. Spray muffin tin (8, 12-count or mini) with non-stick cooking spray, set aside.
In a medium-large bowl, sift together all dry ingredients. Add wet ingredients and stir just until combined. Scoop batter into prepared muffin tins. (I used a small scoop and got 12 muffins, but they didn't fill the muffin tins all the way. If you use a large scoop it would probably make 8 good sized muffins. I am going to try mini muffins next time.) Bake for 20-25 minutes, or until they just start to turn a bit golden at the edges.
For the topping, mix sugar and cinnamon in a small bowl. Place melted butter in another small bowl. Dip the warm muffins in melted butter, then dip/roll the muffin in cinnamon sugar. Serve warm with a cup of coffee or a tall glass of cold milk.