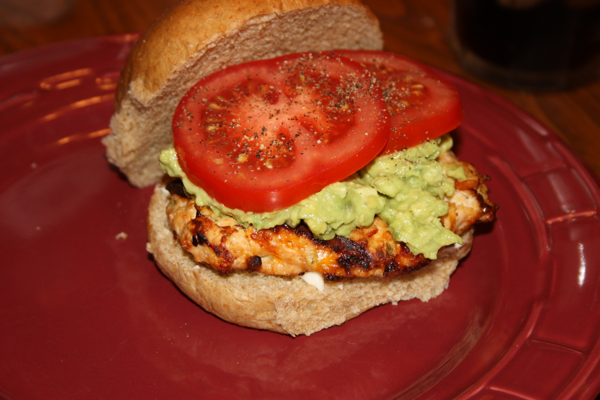 Let summer begin! I have been so excited for summer to arrive. I would say that summer is a less structured time at our house, but that would be lying. It is just as busy as other times of the year though I love the summertime.
I was so eager for the boys to be out of school and for summer to begin that I had a sidewalk chalk greeting for the boys on their last day of school and a menu plan of grilling out to start the summer vacation. It was a great evening and this is a new favorite burger at our house. We served them with guacamole and they were fantastic. The next day I heated one up for lunch and didn't have any guacamole so I made a chipotle mayo that was superb with the burgers. Next time we have them I will be eating mine with both guacamole and the chipotle mayo. So delicious and such a change from a regular burger although I love those too!
I hope you and your family have a fantastic summer and get the opportunity to try some new recipes on the grill. I have so much enjoyed these flavors that I will be trying many more chicken burgers this summer.
Cheddar Jalapeño Chicken Burgers
Ingredients:
1 1/2 pounds ground chicken (I have started using boneless skinless breasts and pulsing them a couple of times in the food processor instead of buying ground chicken)
1/2 cup finely chopped yellow onion
1/4 cup finely chopped fresh cilantro
2 garlic cloves, finely chopped
2 teaspoons chopped jalapeño
1 teaspoon ground cumin
1 teaspoon paprika
1/3 cup finely shredded cheddar cheese
kosher salt and freshly cracked black pepper
hamburger buns
guacamole
chipotle mayo (mix some adobo sauce into store bought mayo)
Directions:
Preheat an outdoor grill over medium heat.
Place the ground chicken in a medium sized bowl. Add in the onion, cilantro, garlic, jalapeño, cumin, paprika, cheddar cheese, salt and freshly cracked black pepper. Using your hands, incorporate everything together. Make sure everything is evenly incorporated without over mixing the ground chicken. The mixture will be very soft. Form into patties and place on waxed paper or parchment paper. If needed place in the refrigerator to firm up the patties before grilling.
Grill burgers over medium heat until cooked through, 5-7 minutes per side.
Serve each patty in a burger bun topped with guacamole and chipotle mayonnaise or toppings of your choice.