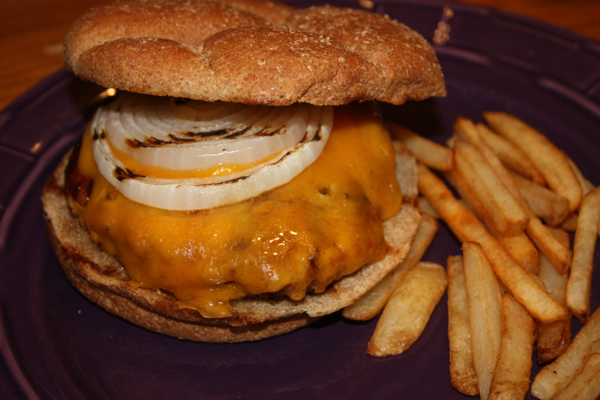 I first saw this recipe for chicken burgers last summer, but never got around to making them. With Kansas City's unseasonably warm weather last week and my leftover pulled pork needing to be used (it is included in the burger mixture) I thought it was a great time to give this recipe a try. I am so glad that I did!
I have to admit I was a little skeptical of chicken burgers. By that I mean, I really enjoyed grilled chicken sandwiches and wasn't sure how a chicken burger could be that different. Well it was. I actually thought these were super moist and I loved all the flavor. I should have known that I would be a convert. I pretty much love all burgers (even brioche buns) … traditional, black bean and salmon. Why wouldn't I love chicken burgers?
I am just wishing that the warm weather had stayed around so that I could have these on our menu more often. Now that I have found an additional burger love you better believe I will be trying some new flavor combinations. Don't worry–I will still be grilling my favorite grilled chicken, but when it comes time for sandwiches I think chicken burgers will be high on my list.
Barbecue Chicken Burgers
Printer Friendly Recipe
Ingredients:
1 lb. ground chicken*
1/4 cup cornmeal
1 scallion, minced
1 tablespoon fresh cilantro, minced
2 teaspoons brown sugar
1 teaspoon dry mustard
1/2 teaspoon kosher salt
1/2 teaspoon paprika
1/4 teaspoon garlic powder
Pinch of cayenne pepper
2/3 cup chopped pulled pork (optional)
5 tbsp. barbecue sauce, divided
For serving:
Burger buns, toasted on the grill
Grilled onion slices or sautéed onions
Sliced cheddar cheese
Additional barbecue sauce
Directions:
Heat a grill to medium-high heat.
To make the burgers, combine the ground chicken, cornmeal, scallion, cilantro, brown sugar, spices, pulled pork (if using) and 2 tablespoons of the barbecue sauce in a medium bowl and mix gently until well combined. The mixture will be very moist but that is what you want. Form the mixture into four equal patties. Transfer to a plate lined with waxed paper and refrigerate until ready to grill. This allows the patties to firm up a bit before going onto the grill.
Oil the grates of the grill. Place the burger patties on the heated grill and cook about 5-6 minutes. Flip the burgers and brush the cooked sides generously with some of the reserved barbecue sauce. Cook for another 3-4 minutes, then flip once more and brush the second side with barbecue sauce. Top with cheese slices, if using. Cook just until cooked through and cheese is melted. Place the burgers on the toasted buns and top with grilled onion slices and additional barbecue sauce as desired.
If you are topping with grilled onions, go ahead and place the onions on the grill at the same time you start the burgers.
*When I made this recipe, I decided to make my own ground chicken. First, I took three frozen chicken breasts out of the freezer and defrosted them. Then I cut them into large chunks and put them in my food processor. I did a few quick pulses until the chicken was in small pieces. It worked really well. I think I will be doing this more often when I need ground chicken because I can control the quality and fat in my chicken.
Adapted from Pink Parsley Catering.