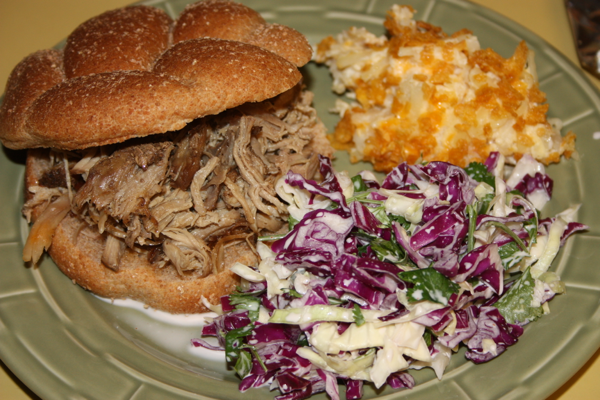 Friday night all of Jeffrey's family came over for a birthday celebration. Since I had already had a full week we decided to make this pulled pork and have family bring the sides and dessert. It worked out perfectly because it was super simple to throw in the oven and it cooked all day. The most work we had was shredding the meat (Jeffrey has perfectionist tendencies and doesn't like fat in his pulled pork).
The recipe has the potential to be quite spicy because you use an entire can of chipotle peppers in adobo sauce. We had a few kiddos that don't like spicy items and a couple of adults that prefer things on the mild side so instead of putting the meat back into the strained cooking liquid we served the sauce on the side. This took away most of the heat and allowed everyone to enjoy the meat. (If you like spicy food just add your meat back into the strained cooking liquid or have a dish with some in the liquid and some without.)
The meat turned out really moist and had great flavor. It was a nice change of pace from our usual pulled pork and we even used our leftovers to make some other great recipes. Make sure to come back later this week to see how we used up our pork leftovers without eating the same thing all week.
Dr. Pepper Pulled Pork
Printer Friendly Recipe
Ingredients:
1 pork butt (pork shoulder) (6-7 pounds)
1 7 ounce can chipotle peppers in adobo sauce
2 cans Dr. Pepper
2 tablespoons brown sugar
1 onion, peeled and quartered
Directions:
Place the onion in a Dutch oven or large baking dish. Place the pork butt on top of the onion fatty side up. Pour the chipotle peppers and sauce over top the pork. Add the Dr. Pepper and brown sugar. Cover and bake in a 300 degree oven for about 6 hours (if you have time or think about it turn the meat halfway through cooking). After 6 hours of cooking check to see if the meat shreds easily, if not cook longer. (I am sure this could be made in a crock pot as well.)