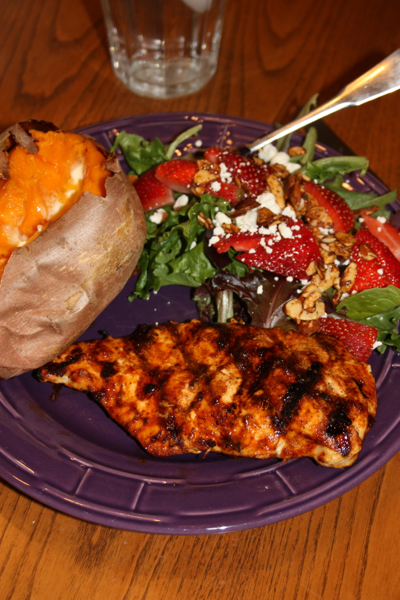 First I need to say thanks to my husband for guest posting on my birthday and for the AWESOME cake. I am blessed and spoiled: that is all I can say.
Speaking of being spoiled, last week's beautiful weather spoiled me and I took every possible advantage to grill. There is just something about grilled food that makes me happy. That combined with the warm weather after the snowy spring had me feeling good about life. Today, on the other hand, I have been freezing and wondering where our beautiful weather has gone.
I guess I will just have to hang on a little bit longer and just rely on my memories of this fantastic chicken until I can get out and fire up the grill again.
We loved, loved, loved this chicken and actually have already eaten it twice not to mention the leftovers Jeffrey took for lunch. This will definitely be a summer favorite. Although the recipe calls for chipotle peppers it is not too spicy and both boys loved it. Pair it with a lovely salad, and baked sweet potato and you will be set.
Are you ready to get out of the kitchen and out to the backyard to begin grilling?
Honey Chipotle Grilled Chicken
Ingredients:
¼ cup honey
1 tablespoon pureed canned chipotles in adobo sauce
1 teaspoon Dijon mustard
1 tablespoon chili powder
Kosher salt and freshly ground black pepper
1 tablespoon canola oil
½ teaspoon ground coriander
½ teaspoon ground cumin
½ teaspoon paprika
4-6 boneless, skinless chicken breasts
Directions:
Heat the grill or a grill pan to high. In a small bowl, whisk together the honey, chipotle puree, mustard, 1½ teaspoons chile powder, ½ teaspoon salt, and 1½ teaspoons oil. Set aside.
Stir together the remaining chili powder with the coriander, cumin and paprika in another medium bowl. Add the chicken breasts the remaining oil, and toss to coat. Season with salt and pepper.
Place the chicken on the heated grill and cook for 5-7 minutes. Flip the chicken and brush the cooked side of the chicken pieces with the honey-chipotle glaze. Cook for an additional 5-7 minutes; flip the chicken again and brush the second side with the glaze. Cook for 2-3 minute, or until chicken is cooked through. Remove from the grill and serve with additional sauce if desired.