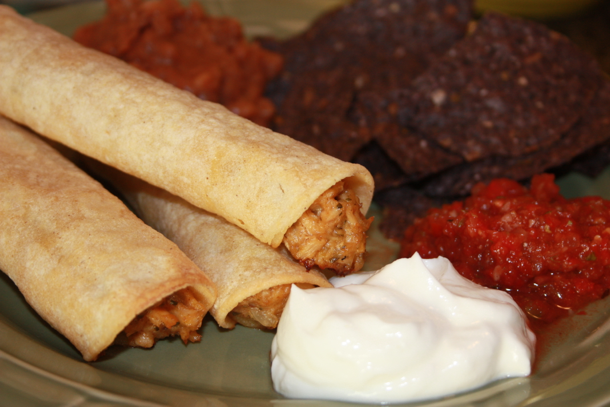 Over the past few days, I have been trying to use up the odds and ends of food leftover from when family was visiting. Leftovers seem to be almost unavoidable when cooking for a crowd.  I am happy to say that I am finally seeing light at the end of the tunnel.
Using up leftovers can be a challenge. I am fine eating something a couple of times as it was originally prepared, but in the end I want a new dish created out of my leftovers. That is where these taquitos came into play. I still had some of my Kalua pork left and I didn't really feel like having barbecue again so I decided to use the pork in taquitos. Because of the spices, the flavors are so different from the way that it tasted originally that it was an excellent use of the leftover pork. Everyone enjoyed these and the new recipe helped clean out my refrigerator. Win-win!
I served these with refried beans, tortilla chips and fresh salsa. If you haven't made this salsa yet, you really should try it soon. I substituted the tomatoes in the recipe with grape tomatoes and it was very tasty. An excellent addition to our summer menus.
Pork Taquitos
ingredients:
1 medium onion, finely chopped
1 tablespoon canola oil
2 garlic cloves, minced
2 teaspoons ground cumin
1 teaspoon dried oregano
1 teaspoon chili powder
1/4 teaspoon cayenne pepper
2 cups shredded cooked pork
1-2 cups shredded cheese (I used a mixture of cheddar and pepper-jack
1/4 cup minced fresh cilantro
1/4 cup salsa verde
12-16 corn tortillas (6 inches), warmed on the stove in a dry pan until pliable
directions:
Preheat oven to 400 degrees.
In a large skillet, saute onion in oil until tender. Add the garlic, cumin, oregano, chili powder and cayenne; cook 1 minute longer. Add the pork, cheese, cilantro, and salsa. Cook and stir until cheese is melted.
Place about 2 tablespoons filling over lower third of each tortilla. Roll up tightly. Place on greased baking sheet or stoneware pan seam side down. Repeat with remaining tortillas and filling. Once all of the taquitos have been made, spray the tops of the taquitos with cooking spray. Bake at for 8 – 10 minutes or until tortillas are firm and starting to brown. Serve with sour cream and salsa or your favorite toppings.
Adapted from Taste of Home.