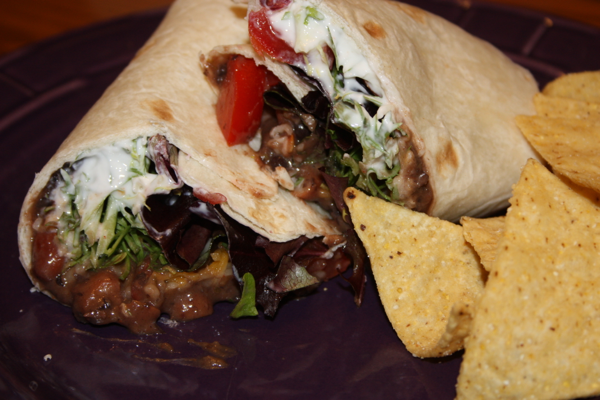 You know how much our family loves mexican food so it will come as no surprise that we loved this meal. I first noticed this recipe almost 2 years ago in my Cooking Light magazine but never made it because it called for chipotle chili powder. I also was quite content with our beef and bean burritos as well as our black bean enchiladas so I didn't' think I needed another recipe. Silly Dinah! What was I thinking is what I asked myself as I ate this burrito.
I had been at Penzey's the other day and was looking at all of their chili powders when I noticed they sold chipotle chili powder. I loved the smoky smell of it and so when I came across this recipe again I knew I needed to make these. The verdict? I have now become a believer in chipotle chili powder. I can't wait to try it in some of my other recipes. (I think you could probably make this with regular chili powder and an addition of a minced chipotle pepper in adobo sauce, but I love an excuse to buy a new spice and visit my local Penzey's store.) If you are unfamiliar with chipotle peppers, they have a rich smoky flavor while adding a bit of heat.
I will tell you that the only downfall I found in this recipe was that we did not have any leftovers. I guess next time I will have to double the recipe to insure we can have some yummy lunches.
Chipotle Bean Burritos
Printer Friendly Recipe
Ingredients:
1 tablespoon canola oil
1 garlic clove, minced
1/2 teaspoon chipotle chili powder (you could substitute 1/2 teaspoon chili powder and 1/2 teaspoon minced chipotle pepper)
1/4 teaspoon salt
1/3 cup water
1 (15-ounce) can black beans, drained
1 (15-ounce) can pinto beans, drained
3 tablespoons salsa
flour tortillas
shredded Mexican blend cheese
chopped tomatoes
shredded lettuce
sour cream or plain greek yogurt (I always substitute plain greek yogurt and love it.)
Directions:
Heat oil in a large skillet over medium heat. Add garlic to pan; cook 1 minute, stirring frequently. Stir in chile powder and salt; cook 30 seconds, stirring constantly. Stir in 1/3 cup water and beans; bring to a boil. Reduce heat, and simmer 10 minutes. Remove from heat; stir in salsa. Partially mash bean mixture making sure to leave some of the beans whole.
Warm tortillas according to package directions. Spoon about 1/3 cup bean mixture into center of each tortilla. Top each burrito with cheese, chopped tomatoes, shredded lettuce, and greek yogurt or toppings of your choice.
Adapted from Cooking Light January 2010