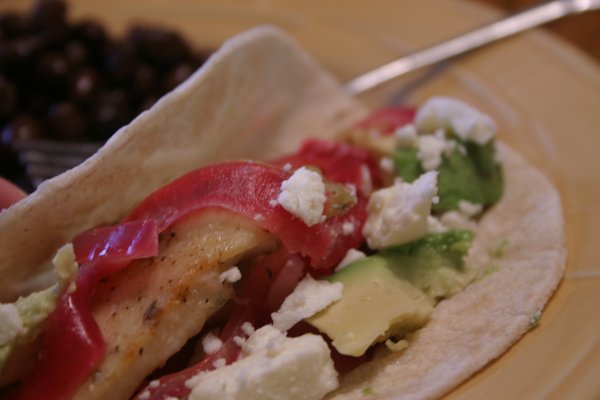 In honor of Cinco de Mayo, I thought I would provide you with yet another mexican recipe. It isn't like you couldn't go with some of my previously posted favorites such as Creamy Salsa Verde Chicken Nachos, these chicken tacos, or even beef and bean taco salad to name a few. At the same time, I felt I had to offer you something new.  You've already tried those other dishes right? 🙂
I actually had a different idea in mind for the occasion, but on Monday night I decided to try a new taco recipe and thought this recipe was just the right one. (I will be sharing my original choice soon; trust me, you will want to try that as well.) You may be wondering why I would go on and on about the recipe. I will be honest and say it really isn't about the chicken (I actually like the chicken from the other chicken taco recipe better), but this one was super easy and the toppings on the tacos were excellent. Yes…this recipe is all about the wow factor of the toppings. Pickled red onions!?!  Please keep reading! I promise it is worth it.
This recipe made "fancy" tacos in my opinion. The chicken comes together very quickly as you simply sauté it. The real treat here is the pickled onions and cheese. (I actually didn't have the cheese that the recipe called for and substituted feta and really enjoyed the flavor.)  Combining the avocado, cheese and onions leads to something special.  I served these tacos with black beans (my boys love frijoles negros! Jeffrey has some weird desire to use the Spanish word for black beans all the time), and we were satisfied at the end of the meal. I am already thinking of ways to incorporate the pickled red onions into some other meals. (I think they will be an excellent addition to my beer battered fish tacos.)
Chicken Tacos with Pickled Onions
Printer Friendly Recipe
Ingredients:
1/2 cup fresh orange juice (about 1 orange)
1/3 cup fresh lime juice (about 2 limes)
1 teaspoon sugar
1 teaspoon cumin seeds
1 medium red onion, thinly vertically sliced
1 1/2 pounds skinless, boneless chicken breasts, cut into thin strips
1 tablespoon olive oil
1 teaspoon dried oregano
1 teaspoon ground cumin
3/4 teaspoon salt
3/4 teaspoon freshly ground black pepper
Cooking spray
8 (6-inch) corn tortillas
1 cup diced peeled avocado (about 1 avocado)
1/2 cup (2 ounces) crumbled Cotija cheese (I substituted Feta cheese.)
Directions:
Combine first 4 ingredients in a medium bowl, stirring until sugar dissolves. Place onion in a small saucepan; cover with water. Bring to a boil; drain and add to juice mixture. Chill until ready to serve.
Sprinkle chicken with oregano, cumin, salt, and pepper; toss to coat. Heat olive oil in large skillet over medium-high heat. Add chicken to pan; saute until browned and cooked through, stirring occasionally.
Heat tortillas according to package directions. (I heat them for several seconds on each side on a dry skillet on the stove.)
To serve fill each tortilla with chicken, onions (drained from their pickling mixture), avocado, and cheese. These are excellent served along with black beans.
Adapted from Cooking Light April 2010