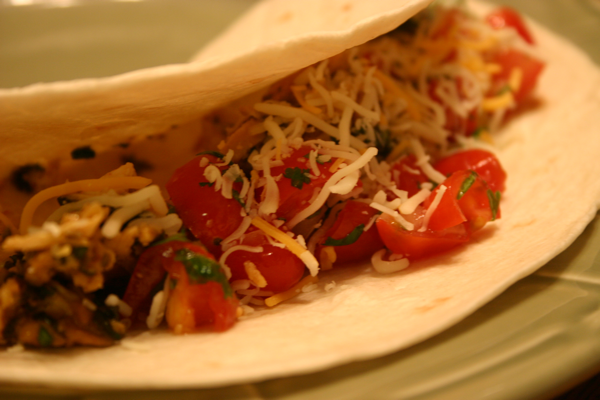 I have mentioned before how Mexican food is a staple at our house. Tacos are definitely one of my favorites. The other day I picked up a copy of America's Test Kitchens Best Recipes for 2011. I have found lots of inspiration in the magazine, and when I saw the recipe for chicken soft tacos I knew it had to be on our menu plan.
Some of the ingredients for the recipe were a little unconventional, and I never would have thought to include them in a mexican recipe.  Instead of being suspicious, I trusted the recipe and boy was I glad I did. The outcome was amazing. Although I already had several taco meat recipes that I enjoy, I know this one will be making several appearances at our house.
Not only did I find them delicious but the entire family seemed to enjoy them. The boys didn't even complain that there was green stuff in them. The meal can easily be rounded off with black beans which is our favorite side when having tacos.
Easy Chicken Tacos
Ingredients:
3 tablespoons unsalted butter
4 garlic cloves, minced
2 teaspoons minced canned chipotle chile in adobo sauce
3/4 cup chopped cilantro
1/2 cup orange juice
1 tablespoon Worcestershire sauce
1 1/2 pounds boneless, skinless chicken breasts
1 teaspoon yellow mustard (prepared mustard)
salt and pepper
12 flour tortillas, warmed
Directions:
Melt butter in a skillet over medium-high heat until foaming. Add garlic, chipotles to the butter and cook until fragrant (about 30 seconds). Stir in 1/2 cup cilantro, orange juice, and Worcestershire. Bring to a boil. Add chicken and simmer, covered over medium-low heat until the chicken is cooked through (about 10-15 minutes), flipping the chicken half-way through. Remove chicken to a plate and cover with foil.
Increase the heat back to medium high and cook until the liquid is reduced to 1/4 cup, about 5 minutes. Remove from heat and whisk in the mustard. Shred the chicken and return to the skillet. Add the remaining 1/4 cup of cilantro and toss until well combined. Season with salt and pepper to taste. Serve with warmed tortillas and toppings of your choice. (My favorites are shredded lettuce, sour cream, shredded cheese, and tomatoes.)