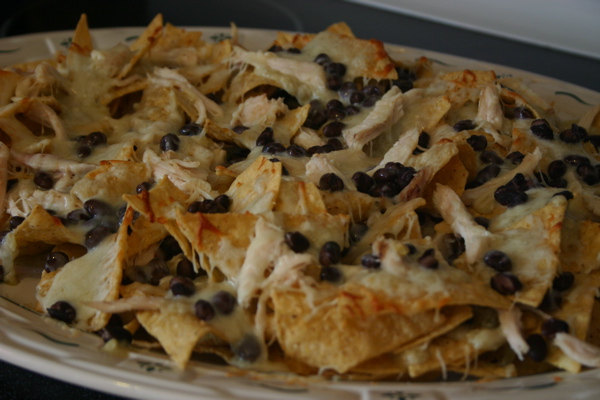 In an earlier post, I mentioned that we have been super busy lately and that we have enjoyed several get-togethers with friends and family. I am always having to think up something yummy to take. (Life is hard when you are a food blogger! Expectations are high!) Recently, Sundays seem to work best for family get togethers. We try to come up with a theme and then everyone brings something to contribute. At this particular event, my brother-in-law informed me that I needed to bring something new and it needed to be delicious. He didn't really care what it was as long as it was not from our standard repertoire. So when they called me on Saturday morning to ask what I was bringing I had no clue. So I started looking through cookbooks, magazines and food blogs trying to find inspiration when I remembered nachos that I had made last winter. I remembered they came together fairly easily, tasted great and that I had most of the ingredients on hand.
Any normal person would probably go to the store on Saturday so they wouldn't feel rushed on Sunday, but not me. Instead of dragging William and Tyler on all of my errands for the day I took this particular Saturday off (Jeffrey was in an all day meeting).  It seems that there are times as a mom you realize it is better to try to fit everything into one crazy and busy day (running around like a chicken with her head cut off) without the children then to try to run to the grocery store with two tired boys. This day was one of those days.
Sunday was marathon day. We went to church. We ran home had lunch, dropped the kiddos off with their aunt, and then went birthday present shopping for friends, finishing our errands with the grocery store and Costco. We got home at 4:00 and we needing to leave for the surprise birthday party by 4:30. With Jeffrey's help we made it. The salsa ingredients were chopped and thrown together, sauce for the nachos made, chicken shredded, and items needed for assembly were thrown in various containers to be assembled upon arrival. Once we arrived at the party site, the nachos came together quite easily and they spent a brief moment  in the oven. The best part (besides being a hit) was that we had leftover sauce and chicken that we used later in the week to make enchiladas!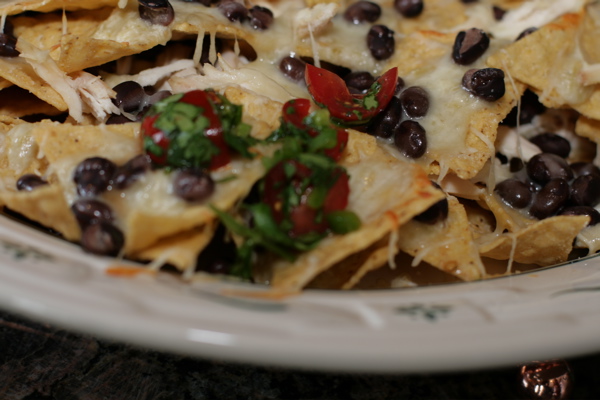 Creamy Salsa Verde Chicken Nachos
1/2 stick unsalted butter
1/4 cup flour
2 cups chicken stock
4 cups shredded monterey jack or mexican blend cheese
1 16 oz. jar salsa verde
1 can black beans, rinsed, drained
1 3lb. chicken, cooked and shredded (I like to use rotisserie chickens when I am short on time.)
1 large bag corn tortilla chips
sour cream (for serving)
guacamole (for serving)
Quick Salsa
1 pint grape tomatoes, halved or quartered depending on size
2 green onions, chopped
1-2 jalapenos, chopped
1/2 bunch of cilantro, chopped
juice of 2 limes
Directions
Make a roux by melting butter in a large saucepan over medium heat. As the butter completely melts, whisk in the flour making sure there are no lumps. Cook for 2-3 minutes to get rid of the raw flour taste but not enough to brown the mixture. Gradually, whisk in the chicken broth and simmer for about 8 minutes to thicken. Once it has thickened add 2 cups of the shredded cheese and stir until the cheese is melted and combined. Stir in the salsa verde and remove the pan from the heat.
Make a quick salsa by adding tomatoes, green onions, cilantro, jalapenos, and lime juice and salt and pepper to taste.
To assemble…
Get a very large oven safe platter (I use the turkey platter) and put a layer of chips on the bottom. Then sprinkle with chicken and black beans. Top with a good coating of sauce (about 1/4 of your sauce) and sprinkle of cheese. I then repeat the chips, chicken, beans, sauce, and cheese. (You could do this a couple of times but I like to just do it 2 times so the chips don't get too soggy. With this technique you will have used about half the sauce.) Stick in a 350° oven for about 5-10 minutes until the cheese is melted and gooey. Serve with fresh salsa, sour cream, and guacamole.
Adapted from Tyler Florence